This New YSL Beauty Lipstick Is Almost Too Pretty To Keep In Your Purse
YSL Beauty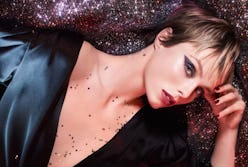 Each year when the holidays roll back around, it's almost as if you wake up one day and everything's been generously dusted with glitter — from the home decor for sale at every store to the packaging on your go-to beauty products. You won't find any complaints here, considering there's nothing like a healthy dose of sparkle to get just about anyone in the holiday spirit. And YSL Beauty's Rouge Pur Couture Holiday Edition lipsticks are a surefire way to feel extra festive every time you swipe some of the high-impact color onto your pout, thanks to their celestial-inspired makeover. Packaging this pretty is too good to pass up.
If there were ever something so inevitable that it's practically written in the stars, it's the fact that you're fast approaching a holiday season jam-packed with social events. And when you're running from the office to a cocktail party to a dinner date, one thing you can count on to totally transform your look in no time flat is a bold but wearable lipstick that'll go with everything.
Thankfully, that's exactly what YSL Beauty's dropping in celebration of the holidays, with four Rouge Pur Couture lipsticks that come in revamped tubes that are shiny, glittery, and made to show off.
YSL Beauty's Rouge Pur Couture lipstick is already fan-loved for its rich, ultra-pigmented formula that's long-wearing and incredibly comfortable. Thanks to moisture-retaining hydrospheres and natural extracts, the satin finish lipstick stays subtly glossy and super smooth on lips for hours after application. And now, four brand-new seasonally appropriate shades just got all dressed up for the holidays in star-studded packaging that's even more glam than before.
The glossy golden tubes are adorned from top to bottom with glittery silver stars that catch the light in a way that just might convince you to carry it around all night instead of stowing the tube away in your purse. Inside, the bullet, too, is stamped with stars for an extra festive touch. Choose from three rich pink hues, deep berry Dazzling Carmin, dark plum After Prune, and dusky rose Rosewood Star. Or, opt for nude Golden Copper, which gleams with bronzed goddess undertones.
Grab YSL Beauty's limited edition lipsticks in all four colors below, so you're ready to rock the party circuit with some serious star power on hand.