YourMomCares Is A Mental Wellness Charity Founded by Jonah Hill and Adam Levine's Moms That Uses Social Media Influence For Good
Patsy Levine and Behati Prinsloo Levine // Mark Hanson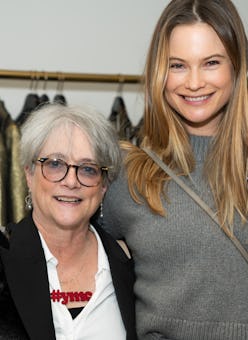 You've probably seen it: a light-hearted video featuring a two very relatable women in their sixties pleading with young adults to sign up for health care. You've probably seen it because Sharon Feldstein and Patsy Noah, the stars of the video, are Jonah Hill and Beanie Feldstein and Adam Levine's moms, respectively, and also because what started as a basic PSA has turned into a burgeoning mental health charity focused on the neediest among us. In the four years since the video aired, these two powerhouse women launched YourMomCares, which provides children in underserved communities with diagnosis, treatment, services, and activities that best serve their developing needs. Feldstein and Noah have patented the brand, gathered an impressive roster of influential moms, specialists, and volunteers to support it, and are on the brink of launching a new (still secret) initiative in 2019.
I had a chance to learn more about their journey and their mission at a fundraising lunch and shopping event hosted by stylist Rachel Zoe in her Palisades store, where 20 percent of proceeds from any purchase that day were donated to YourMomCares and guests were treated to a Box of Style as a thank you for their support.
YourMomCares began when Feldstein and Noah recognized that they, along with their celebrity offspring, were in a unique position to highlight and support a philanthropic cause. Together with their celebrity children, including Beanie Feldstein, Jonah Hill, Adam Levine and the likes of Alicia Keys, and Michael B Jordan whose mother's are also involved, they have a combined tens of millions of followers across social media platforms. "We realized that with our [and our children's] combined social media accounts, our charity has the potential to reach 140 million people," says Feldstein, who previously worked as a stylist and costume designer on TV shows like Dear John and is well versed in the power of celebrity reach. In contrast to the arguably negative impact social media can have on mental health, Feldstein and Noah are seeking to use it for good. In addition to raising awareness about mental health, or "mental wellness" as they prefer to call it in order to combat stigma, the charity collaborates with strategic partners like the Children's Health Fund to provide children with everything from educational support to food and counseling.
It was actually Levine and Beanie Feldstein who helped push their moms into the direction of mental wellness. "We knew we wanted to use our access and reach to impact change for children in need, but it was Adam and Beanie who really encouraged us to pursue mental health. It was a cause they felt incredibly strongly about, with one in four children in the U.S. suffering from mental health issues," says Noah.
Levine's daughter-in-law, model Behati Prinsloo Levine, who also supports the charity, underscored the importance of the cause, saying, "Many new moms don't know the warning signs or the importance of early detection of mental illness in children. I certainly didn't, which is why I support their mission to educate, raise awareness, and provide resources to everyone."
One thing that makes YourMomCares unique is the range of ages it serves. Friend and supporter Rachel Zoe says, "Many people stop thinking about children's health issues past the age of 10 or 12, but YourMomCares is fully addressing children in adolescence and beyond, up to age 24."
Another import differentiator is the allocation of the charity's resources. "Most fundraising efforts contribute to research centers for specific issues, but we wanted to be nimble," says Feldstein. "We created our Mobile Moms Emergency Fund, where we, along with a group of special health advisors consisting of pediatric doctors and mental health specialists, identify and serve communities of threatened children like those in Flint, Michigan."
It is this collaborative approach that makes their work so far so robust. Says Prinsloo Levine, "Their ethos is so centered in the concept of community, of supporting communities and making everyone feel like someone cares, that we should all care for each other, and give help where it is needed most." With their secret impending initiative, slated to hit our feeds around Mother's Day of 2019, we're sure to be hearing more from the power duo, their celebrity kids, and their growing foundation of influential moms.
Donate to YourMomCares here.