World Market's Huge Sale Has So Many Accent Tables Under $100 Right Now
World Market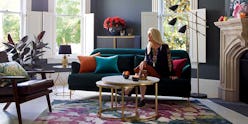 Selecting furniture for your home should be a well thought-out process; after all, when you're spending your hard-earned money, you want to make sure any new additions are going to stick with you for years to come. However, there's no denying that the time spent pondering a purchase can be condensed when prices on accent tables are slashed to under $100 in World Market's furniture sale.
One such piece you can save big on right now is the Ennis Accent Table. The round metal and wood table regularly rings in for over $100, but now you can scoop it up for just $39.99. A minimalist's dream table, it can easily work next to a sofa in a living room or as a nightstand by your bed. The black metal tray on top provides for a blank slate that can be adorned with your latest read and favorite candle.
An equally good buy is the Antique Mirror Beau Accent Table; it's now also down to $39.99 from an original price of $99.99. Adding this Art Deco-inspired piece to your home is a surefire way to elevate any living space. If your entryway is currently lacking a place to set down your keys, consider bringing in this table to hold a ceramic catch-all dish and greenery that'll greet you when you come in the door.
The right side table can also be an easy way to incorporate texture into a space. Take this Round Wood Carved Floral Esmee Accent Table, which is now on sale for $49.99; the intricate detailing on the top will no doubt add character to a room that's in need of dimension. Plus, the hand-carved detailing makes the table look as if you picked it up on a trip abroad.
On the hunt for a place to set your laptop, but don't have a lot of floor space? Instead of trying to squeeze a desk into a cramped space, opt for a sleek laptop table. Once $99.99, this gold-embossed style is now marked down to $49.99 in the sale. The bottom of the multipurpose piece will slide under a sofa to make it easy for you to type away comfortably.
Continue on for seven versatile accent tables that you'll want to bring into your home while they're deeply discounted.