Why Switching Careers At 30 Was The Best Decision I Ever Made
Andrew Morales/WWD/Shutterstock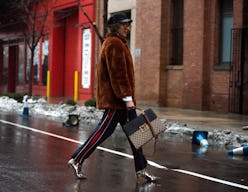 It's a scenario that happens to many: The job you landed post-college — whether you thought you were headed for your dream career or you were simply in search of income — eventually loses its luster. Maybe you loved working 60-hour workweeks in your 20s but now you crave work-life balance, or you got stuck in a dead-end position. Maybe your passion for the industry faded over time. In any case, it's not uncommon to see individuals switching careers in their 30s. So, if the approach of a new decade has you seriously questioning your own path, you're certainly not alone.
"The most common ages when individuals reach out to me for career coaching are the ages ending in '9,' with ages 29 and 39 topping the list," says Rebecca Fraser-Thill, a career coach and director of faculty engagement at the Bates College Center for Purposeful Work. "Twenty-nine-year-olds say that they feel pressure to have their lives look a certain way by age 30, like there's some sort of deadline. Plus, we develop in marked ways during our 20s cognitively, socially, and emotionally, meaning that the choices we made at 22 years of age may not fit us at all by 29 or 30."
Hesitant to make a switch because of your age? Don't be, says Fraser-Thill. She points out that "being happy and settled" in your job by age 30 is a myth on a long list of unrealistic work expectations. In fact, she adds, it's never too late to reconsider your career, and the biggest mistake people make is waiting too long to take the leap. "Might as well make the change now — thoughtfully, not rashly — and feel more contented and settled by the time the next decade milestone in your life rolls around," she reasons.
Ahead, read the stories of four woman who re-routed the trajectory of their professional lives around age 30 and beyond. While taking the risk can be daunting and will inevitably require a lot of hard work, they prove that it's possible to make a change and find fulfillment in your work, even after your 20s.
Christina Stembel, 41 || Founder + CEO of Farmgirl Flowers
"I am currently the CEO and founder of Farmgirl Flowers, a direct to consumer e-comm floral delivery company based in San Francisco, California. Before starting Farmgirl, I worked at Stanford University, most recently as the the Director of Alumni Relations and Campaign Outreach for Stanford Law School, and prior to that as the Director of Catering for the university. I left my corporate job at the age of 32 to start the company.
I was that (somewhat) annoying person who came up with several business ideas a week that I would test on my friends. I wasn't inspired to start a company from a passion in a particular area. I was much more driven by the end goal — to scale a successful business that ticked off a few boxes that were important to me. From there, I worked backwards to figure out what the business would be.
"I often tell my team that we need to run our business as if we're selling toilet paper, because the numbers need to work just like it's toilet paper. If we're too precious about the product we're selling, it becomes very difficult to make the right decisions for the business."
Without a doubt, I'm so grateful that I get to do what I do. But even with that gratitude my job now is really hard. I don't want to sugarcoat it, as I think it's important to be honest for those who may be thinking of quitting their cush job to start a business. Anyone considering going out on their own needs to go into it with their eyes wide open.
[When it comes to starting a business] I don't think "ready" really exists. When I think about when I started Farmgirl and how much of a difference it would have made to start earlier, I wish I had. I'm now 41 and working the long hours I need to to make my particular grind work is a challenge. I wish I had the stamina (and wherewithal for overnighters) that I did when I was in my 20s so I could be doing what I'm doing now in my 30s (instead of 40s). Time and energy are limited resources. Use what you have now to make it work. Don't wait."
Amy Brueckner, 48 || Chief of Staff at CIRE Travel
"I work in the travel industry as Chief of Staff for CIRE Travel, a boutique travel agency that specializes in corporate and group travel for small to mid-sized businesses. I switched careers at age 47.
Immediately before going to work for CIRE, I was consulting, but before that, I spent over two decades working in the TV business. I worked in various marketing and sales roles at NBC, CBS, Lifetime Television, Turner Broadcasting, and A&E. I was based in New York, Los Angeles, Atlanta, and then back in New York again.
It wasn't one turning point, but more of a combination of factors [that lead to my career change]. I was recently married, and my husband and I were thinking about moving to a bigger place (we were in a small Manhattan apartment). We couldn't decide on where to move; uptown, downtown, the suburbs. At the same time, I was feeling burned out at work; I didn't feel like I was being my 'best self.' With both of these things happening at the same time, my husband and I realized that maybe this was an opportunity for a bigger change … like moving outside of NYC. Very long story short: We sold our apartment, put everything in storage, quit our jobs, and took a 14-month trip around the world. You only live once, right?
"There's a famous quote: 'Twenty years from now you will be more disappointed by the things you didn't do than by the ones you did. So throw off the bowlines, sail away from the safe harbor, catch the trade winds in your sails.' And another from George Addair: 'Everything you want is on the other side of fear.'"
It was an incredible experience. And when we came back to the States, we could literally live anywhere we wanted, so we moved to Maine. We came here once for a long weekend back in 2012 and just loved it right away. We bought a house (with a yard!) and started looking for work. That's how I got connected with CIRE.
I love working for a small business. The work I do every day makes an immediate impact. And I love talking about travel every day. Whether it's business or leisure, encouraging travelers to get out into that big, wide world, meet new people, and experience new cultures, makes us all better, more compassionate humans."
Nidhi Kapur, 31 || Founder + CEO of Maiden Home
"I am the Founder and CEO of Maiden Home, a new concept in custom furniture that offers high-quality, handcrafted pieces from the best American craftsmen. I launched Maiden Home in spring 2017 when I was just shy of turning 30 and newly married. [Previously] I was the Head of Business Development at Birchbox, where I was in charge of securing the company's most high-profile strategic partnerships with brands like JetBlue, the Gap, and more.
Maiden Home was inspired by my own personal experience shopping for furniture — and all the frustration that came with it. I was in my late 20s, newly married, and settling into my first home in NYC. My husband and I were ready to design our first 'real' home, and fill it with pieces we'd love living with for years.
"There's truly nothing better than a glowing customer review, an email from our partners about the growth we have brought their businesses, or a moment celebrating wins with my team."
We shopped around and were immediately disappointed. Designs were generic — it seemed like everyone had the same sofa–materials felt cheap, everything was overpriced, and when I asked, salespeople couldn't say where or how the products were made. I found myself searching for a furniture brand that gave me the modern, transparent experience I'd grown accustomed to that also delivered on beautiful design. I couldn't find it, so I decided to build it, and that's how Maiden Home first came to be.
While it's come with its own unique challenges and sacrifices, this phase in my career has brought me fulfillment I didn't know possible from work. I wanted a career that allowed me the freedom to set my own work-life boundaries, and the personal fulfillment that makes time away from home worth it.
Founding Maiden Home met my bar and I launched the company the same year my son was born. The journey has not been without its challenges, but it works for me and I'm glad I took the time to consciously choose a career that fit my personal vision for work and life."
Leigh Kellis, 43 || Founder + Co-Owner of The Holy Donut
"I am co-owner and founder of the Holy Donut [known for its freshly made potato donuts, with three locations in Maine]. I started the business at 35 years old — I'm now 43. [Before starting the business] I was a bartender in Portland.
I was looking to do something more creative than bartending. I loved donuts and had no baking or business experience, but I knew I wanted to attempt to start a business. My boss where I was a bartender suggested I open a donut shop based on my love for donuts that I was very verbal about.
"I'm certainly a great example of 'leap first, and learn everything as you go.'"
I love being in the donut business and I love making people happy through food. I love being my own boss and helping grow the business. I also love all the people who have come into our business and I love how much I've grown as a person by running a business. So yes, I love a lot about my current career.
I had no experience in any aspect of my business, but I did have a BIG passion for donuts and the mission of the business, which is to spread joy and good vibes through a wholesome treat. The shop is a throwback to simpler times, and that's the feeling I aim to achieve through the business. So the mission and passion were bigger than having a perfect business plan or experience or investors. 'Faith over Fear' is the motto."