Meghan Markle Already Has The Perfect Gift Picked Out For Her Daughter
Jackson/Chris Jackson/Getty Images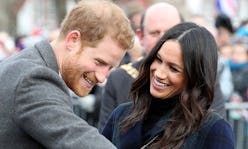 Although the Duchess of Sussex is known for incorporating budget-friendly jewelry into her outfits, she's also a fan of high-end investment pieces. But Meghan Markle's Cartier watch is more than just a luxe piece of jewelry. It turns out the Duchess purchased the watch in 2015 with the intention of gifting it to her daughter one day.
Following the announcement of her pregnancy on Mon. morning, sentimental details surrounding Markle's signature watch have surfaced. During an interview with Hello!, the actor-turned-Duchess of Sussex revealed that she plans on passing down the piece when she becomes a mother.
Although the interview was only three years ago, Markle's life has drastically changed. Markle was starring in the TV series Suits at the time, and she told the publication that she splurged on a Cartier Tank Française watch after the show got picked up for its third season.
Though the watch was a celebratory present in honor of her success on the hit show, it also holds a very sweet, double meaning. "I had [the watch] engraved on the back, 'To M.M. From M.M.' and I plan to give it to my daughter one day," Markle explained. "That's what makes pieces special, the connection you have to them."
The small-face, two-tone, 18-karat yellow-gold-and-steel bracelet is the epitome of timeless elegance. Well over the $5,000 price tag, Markle's watch certainly isn't cheap, but there's no chance the clean, simple silhouette will fall out of style.
The best part about a two-tone watch is the versatility. Markle's future daughter won't have to worry about pairing the watch with the right pieces — the hue looks great against any array of metals. More important, she'll be able to wear the dainty watch with an expansive range of polished outfits, from everyday, casual ensembles — like the Mother Denim jeans Markle favors — to dressy evening gowns.
Now that Markle and Prince Harry are officially expecting their first child, it appears that the Duchess' Cartier watch may be getting passed down sooner than anticipated. Though the gender of her baby is unknown as of this writing, there's a chance that Markle could pass down her engraved piece in the near future.
If Markle has inspired you to splurge on a timeless watch, The Zoe Report rounded up the best Duchess of Sussex-inspired pieces to invest in right now. Shop them all, below.
Shop The Look