Meghan Markle & Gigi Hadid's Favorite Jeans Are 20 Percent Off Right Now
Dan Kitwood/Getty Images Entertainment/Getty Images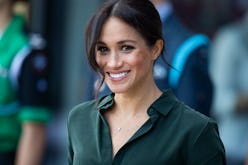 You can officially snag a pair of pants from Meghan Markle's favorite jean brand for 20 percent off. Yup, the cult-favorite denim brand that celebrities drool over is included in Mille's Friends & Family Sale. You know what that means: there's never been a better time to get yourself a pair of Mother Denim.
Mille is a store for women, by women, featuring brands that combine comfort with style. Among them, of course, is Mother Denim: the line beloved by the likes of Jennifer Garner, Reese Witherspoon, Gigi Hadid, and Jennifer Lopez, not to mention royalty.
Duchess of Sussex Meghan Markle wore her favorite pair — the Looker Ankle Fray Jeans in Love Gun — with her signature white button-up blouse and camel leather flats at the Invictus Games in Toronto in Sept. 2017. Jennifer Garner has been a loyal fan of the brand since 2014 and has her own pair of Looker Ankle Fray Jeans in the same vintage-esque wash. Just last week, the actor sported The Looker in a rich hue (called Pardon My French) at Brentwood Country Mart in Los Angeles.
These celebrity-favorite, high-waisted frayed-hem jeans are 92 percent cotton, offering a generous stretch for optimal comfort. The best part? The brand's most versatile wash (Not Rough Enough) is included in the Mille sale for $190.
Another trendsetter who's obsessed with the jean brand is Gigi Hadid. The model wore a bolder style — by no surprise — with racing stripes up the leg, which she paired with a cropped sweater from her Tommy Hilfiger collection. She wore them again with a black turtleneck and a bright-red down coat for a polished (yet casual) look.
Mother makes jeans in every shape, style, and color. Kate Hudson has worn the cropped wide-leg Mavericks with a funky undone hem, while Jennifer Lopez prefers the skinny-leg Dazzler Shift Step pants with distressed patches on the knees. Currently on sale at Mille are Garner's favorite basic jeans, as well as Hadid-inspired faded and cropped flares. Ahead, shop the best Mother jeans while they're 20 percent off.
Shop The Look