The Vacation Capsule Wardrobe: All You Need To Pack For A European Getaway
WWD/Shutterstock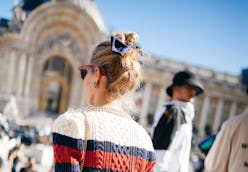 It's that optimistic time of year when plans are made, flights are booked, and vacations are in the not so distant future. According to the latest data report from travel company Hopper, round-trip tickets to Europe in the spring and summer months are the lowest they've been in the last three years, which provides more than ample excuse to secure your European getaway. Paris, perhaps? Barcelona? Berlin? The Amalfi coast? Provence? The options are aplenty, and wherever you choose to visit you'll be needing a suitcase filled with reliably stylish and versatile essentials. But what to pack for a trip to Europe?
Packing is a universally-despised necessity, especially if you refuse to check a bag and need to fit everything into one quasi-small carry on. The internet is bursting with articles about packing hacks, but when push comes to shove the act of choosing what goes into your suitcase is inevitably a headache. To ease your stress, the packing list below should help edit what goes and what stays for a European holiday. Ahead, see travel-ready looks from your favorite influencers and shop the gaps in your wardrobe to make your next adventure as smooth and stylish as possible. Bon voyage!
Crossbody Bag
A European adventure usually entails days filled with museums, cafés, sunset strolls, and other dreamy activities, which means you'll need a bag that can hold all of your necessities and stay out of the way. A cross-body bag is compact enough to not weigh you down while still ensuring you won't need to stop by your hotel room midday. You could also try a belt bag if you're itching to be even more hands-free.
Effortless Dress
You'll be surprised by how useful an easy-yet-polished dress will prove while abroad. All you need to complete the look is pair it with your most comfortable (and cute) shoes and a bag (see above). If you're worried about temperatures cooling down at night, simply cinch a cardigan around your shoulders or waist.
On-the-Go Sneakers
Though "tourist sandals" are all the rage right now, if you're feeling wary about how to style them for an entire vacation, a pair of supportive sneakers is a smart alternative. They look good with everything from a floral dress, to a top and skirt, all the way to your classic tee and jeans combination.
Versatile Tees
If you're aiming to fit everything into a carry-on suitcase, then versatility should be at top of mind when packing. In other words, you need pieces that can mix and match together every single day and what better item to do this with than a classic well-fit tee? It's a bonafide essential.
White Denim
Classic blue jeans are always a good idea, but there's something that feels oh-so-fresh about white denim. It instantly elevates a striped tee or a linen blouse and it also happens to photograph amazingly, which means you'll be that much closer to securing a top-notch Instagram snap.
Breezy Blouse
For days when you don't feel like wearing a cotton tee, a breezy top that feels roomy and romantic is perfect to have on hand. Look for slouchy silhouettes, breathable fabrics, and neutral colors.
Cute Topper
If you're going to be out all day and you don't entirely trust your BB cream has the proper amount of SPF included in it, eschew sunburns and go for a cute hat, instead. If ball caps aren't your thing then try out the season's bucket hat trend.