West Elm's Black Friday Sale Includes Up To 50 Percent Off The Seasonal Decor You've Been Eyeing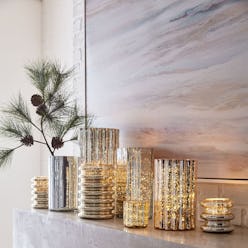 Home decor is not exactly an impulse purchase. A solid and timeless piece of furniture or decor can sometimes cost a pretty penny, which is why those looking to give their living spaces an upgrade might wait for a great deal to come around to take the plunge. Well, if you've been putting your Pinterest vision boards on hold for the past few weeks or months, West Elm's Black Friday deals (as well its Cyber Monday event) could make it worth the wait — and then some.
Although, each year, post-Thanksgiving sales seem to be starting earlier and earlier, the modern decor retailer is upping the ante and kicking off the party five days early on Nov. 25. Yes, on Mon. West Elm will offer its Buy More, Save More discount event that will run until Dec.1. Then, come Nov. 28, the retailer's Black Friday Bonus Deals will kick in, offering up to 50 percent off a variety of products up until Dec. 1. And for those of you with an extra dose of willpower, West Elm's Cyber Monday Bonus Deals (beginning on Dec. 2) will reward your patience with up to 70 percent off select items (and some extra discounts sprinkled in).
Although details surrounding the specifics of the Buy More, Save More event and the products included in the Black Friday and Cyber Monday sales have yet to be released, it might be worth starting your wishlist now. This fortuitous week may just serve as an opportune time to pick up the essentials you've been eyeing for months: sleek sectional sofas for your living room, a buffet table, a stunning accent chair, a chic patterned rug, and more. At the very least, you can stock up on seasonal pieces you don't necessarily want to pay full price for, like faux fur throws, weighted blankets, flannel bedding, etc. There's plenty of shopping strategies to go with here.
To help you get the home decor juices flowing, ahead, 10 West Elm finds that will have you on the edge of your laptop come Nov. 25.