The Sleek Sectional You've Always Wanted Is 30 Percent Off At West Elm Right Now
West Elm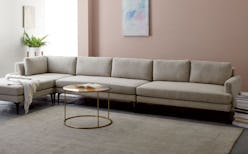 There's nothing like coming home after a long work day and lounging on your sofa. But if your current seating situation isn't quite cutting it, you may find this living room staple gives you a greater feeling of frustration than relaxation. Now, while you may have put off scooping up your dream sofa in the past due to high sticker prices, you'll be able to shop swoon-worthy styles for so much less during West Elm's Upholstery Sale.
Right now, you can get your hands on everything from sofas and chairs to sectionals in luxe fabrics for up to 40 percent off. But with the sale ending on March 5, there's no time to waste in starting to look for that special piece to make you love your living room. And since the markdowns are divided by category, you should be able to navigate through the discounts easily and efficiently (since time is of the essence).
A sale like this means you can *finally* pull the trigger on the Andes 4-Piece Sectional you've been lusting over for months. Regularly running for between $3,496 to $4,996, you can now add the chic style into your space for 30 percent off. Depending on your specific selections, it'll ring in for up to $4,196 or as low as $2,447 during the limited-time sale. Either way, you can save big on a piece with extra-deep seats and a sleek, minimal design that's equal in style and comfort.
Of course, if you're working with a smaller space, you should take a peek at the Shelter 2-Piece Chaise Sectional. The deep-seated style is practically made for cozy movie nights in, and during the sale, the price ranges from $2,118 to $2,278. As for other noteworthy call-outs? West Elm has sorted sofas under $999, as well as chairs marked below $499, into their own groups, making it easy for shoppers to stick to a specific target budget.
Continue on to browse some of the best sofas within West Elm's Upholstery Sale to bring into your living room ASAP, and head over to the site to see the rest of the markdowns.