Vrai Just Introduced A New Line To Take The Guesswork Out Of Creating A Custom Engagement Ring
Courtesy of Vrai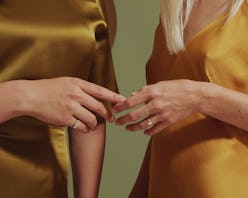 One thing's for sure, and that's the fact that no two relationships are exactly alike. A modern romance calls for an equally modern ring to celebrate important milestones — whether it be a traditional engagement to be married, or simply to state commitment to one another. And if you're on the hunt for a ring unique enough to suit you or your significant other, that's exactly what Vrai's new Partnerings line seeks to provide. It's never been easier to find a ring that signifies your special bond.
Direct-to-consumer, sustainably-made jewelry brand Vrai & Oro has a lot to celebrate. It's turning five this year, and to mark the major milestone it's unveiling an evolved brand identity, a revamped website, and a stunning new line of custom engagement rings to help happy couples memorialize the magic of their one-of-a-kind love. Going forward as simply Vrai, which means "truth", the brand's hope is to help everyone find theirs through an inclusive, personal design process that offers originality to all engagement ring shoppers. Thus, Partnerings was born.
And when Vrai says Partnerings offers you and your partner no shortage of options to pick from, it's really no joke. The collection serves up over 500 variations, starting from a core selection of eight setting designs and seven diamond cuts. From there, you select the metal for your setting (love traditional yellow or white gold, or prefer platinum or rose gold?), opt for a sleek band or one set with pavé diamonds for extra sparkle, and zero in on your very own center stone from Vrai's sustainably grown collection.
The bands, which are made from recycled gold, vary from classic styles The Signature, a sleek solitaire setting, to more artistic expressions like The Hover, which floats your diamond above a slender band. Some other options include a romantic halo setting, a contemporary knife-edge option, and The Trio, which serves up two graduated diamonds to complement your dazzling center stone. For extra bling, each setting can be made with hand-placed pavé diamonds along the band — a total must if you're after a glamorous effect.
Vrai's sustainable aboveground diamonds from parent company Diamond Foundry are cut in seven chic shapes and in varying carat weights, so you can find the one that best signifies your partnership. Choose from timeless brilliant round diamonds, regal oval or cushion cuts, eclectic pear and marquise variations, or geometric emerald or trillion shapes. Whatever your pick, it promises to dazzle from every angle for countless years to come (after all, diamonds are forever).
If you're in the market for a meaningful symbol of your relationship — whatever form it may be — Vrai's stunning new selection is sure to have something that's true to you. Keep scrolling to explore all eight settings, and head to Vrai's site to start designing your own.