This Indie Jewelry Designer Is Making Engagement Rings That Feel So Different
Prounis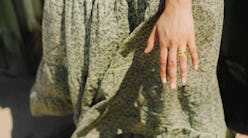 It has increasingly become the norm to eschew tradition and opt for an engagement ring that's unusual or unexpected: less conventional diamonds in platinum bands, and more rare semi-precious stones in crafty settings. If you happen to be in the market for such a ring, and this nonconformist sentiment resonates with you, you've likely encountered the struggle of where to find such a distinctive piece of jewelry from traditional engagement ring retailers. That's why pivoting your search to indie jewelry designers for your engagement ring might just be your best bet.
"I feel like the marital landscape has significantly changed in the past ten years as people are looking for more personalized engagement rings," Designer Jean Prounis tells TZR. Her eponymous jewelry label recently launched a bridal collection called Vow, which includes one-of-a-kind classic bands of different widths, eternity rings, and intricate diamond motifs inspired by antiquity. "Often times, my clients do not use the term engagement when looking to purchase a ring to symbolize their bond, she explains. She adds that increasingly, shoppers are using ring selection as an opportunity to decide together. "I have more clients looking to design rings with their partner rather than the element of surprise." Prounis explains that she takes into consideration how the couple first met, significant dates, and favored vacations and palettes when designing these devotion rings.
Prounis
In addition, Prounis notes that many newer couples also think about a wider range of stone options. "I'd advise to consider the beauty of included diamonds and tumbled sapphires and learn about different stone cuts, like cabochon, faceted, and rose cuts," she says. Prounis also throws out the idea that maybe there doesn't need to be a ring in the first place. "Take time to consider what is best for your everyday lifestyle. Perhaps it's not a ring, but a pendant or a bracelet if you work a lot with your hands. I find the sentiment and symbol of love within the pieces to be the most meaningful," she adds. Prounis' more relaxed attitude is mirrored by other jewelry designers that are entering the engagement space in their own unique ways.
Sofia Zakia
Designer Sofia Zakia draws inspiration from the stars, which inherently makes all of her jewelry feel slightly nontraditional, especially the bridal options. "Sparkling diamonds with pointed prongs, graceful proportions, and small lunar elements all give our pieces their constellation energy," she tells TZR. "Couples that come to us are looking for something unique. Everything that we make is quite finely detailed. Our best-sellers are all bursting with hidden tiny diamonds and are tied to narrative or poetry."
She attributes this movement toward modern designers to an increased interest in storytelling — with special attention to equity and sustainability. "There's importance in both the story behind an engagement piece as well as how it's made. Couples like to know that diamonds are mined sustainably, that gold is fair mined or conflict-free, and that pieces are made locally."
Ursa Major
Ursa Major Founder and Designer Kate Jones is known for her artful, handcrafted jewelry, which makes coming to her for an engagement piece a smart choice (she currently offers around 10 bridal rings). "People have been purchasing our Oneida ring as engagement and wedding bands for quite some time now and I love that it was never pitched as a bridal piece," she tells TZR. "I think it says a lot about where people's heads are at currently when it comes to engagement rings. It's no surprise that folks are seeking out a piece that feels unique for such an occasion, and with the market feeling oversaturated they are turning to unconventional materials in place of the traditional white diamond."
Jones, who refers to herself as a "non-traditional sentimentalist" aims to offer a pared-down elegance with her engagement rings. "A place for the raw materials to sing," she says. "It's hard to reinvent the wheel, particularly when you are looking for simplicity and minimalism, so I turned to subtle nuances of the form and unconventional material pairings."
She offers a unique mix of stones and metals like Venetian Rose Gold (a deep, brown-hued gold) with plum zircons, antique champagne diamonds paired with green gold, and Argyle brown diamonds in Apricot gold. She likens the construction of the rings to the perfect metaphor for the ideal partnership: "the singularity of each component, when paired just right, makes for a piece greater than the sum of its parts. There's no better inspiration than that when it comes to making rings for such an occasion."