Volition's New Vitamin C Serum Gets Its Brightening Powers From A Very Unexpected Fruit
Courtesy of Volition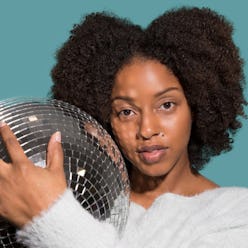 Oranges dominate the vitamin C game. Images of the citrus fruit dance across packaging for moisturizers, cleansers, and toners. Vitamin C face serums across the entire skin care industry are tinted orange. Could any other fruit come close at brightening complexions, reducing redness, and evening out skin texture? While powerful, oranges' reign as the vitamin C-rich fruit in skin care may be coming to an end. Volition's Strawberry-C Serum is the new sheriff in town, harnessing a berry that — surprisingly — contains 14 percent more vitamin C than oranges.
This isn't the first time Volition has introduced a surprising ingredient to skincare fans. The innovative beauty brand has helped to spotlight apple cider vinegar, turmeric, and snow mushrooms in skin care, oftentimes transforming popular beauty DIYs into safe, easy-to-use products you can buy. The Strawberry-C Serum is actually inspired by a beloved DIY, as well; Marilyn Monroe famously used strawberries as cleanser, inspiring beauty fans since to rub the fruit on their faces.
Available March 5, a 1-ounce bottle of the Strawberry-C Serum retails for $42, with the brand noting in the product description you only need to use a pea-sized amount of the serum during your skincare routine. Besides harnessing both strawberry fruit and seed extracts, the serum is made with mega-hydrating hyaluronic acid, soothing cucumber fruit water, and Kakadu plums — another unexpected, vitamin C-packed fruit.
If this is your first time getting to know Volition, you may not be aware of how the brand works. Users in Volition's online community suggest beauty product ideas, with the website serving as a platform for the beauty community to vote on which products they'd like to see come to life. Volition then helps make campaign winners' ideas a reality.
As for the Strawberry-C Serum, the concept comes from a student named Varika. "My inspiration for this product came from summertime skin care with my sister because we love making our own face masks and washes," Varika said in a press email. "I wanted to combine strawberries with other brightening and hydrating ingredients so I could incorporate it into my skin care routine year-round," she added.
Sold on Varika's idea, and the power of strawberries? You can snag a bottle of the Strawberry-C Serum on Volition's website, or at Sephora.