Volition Beauty's Latest Launch Makes Your Favorite Skincare Hack So Much Easier
Courtesy of Volition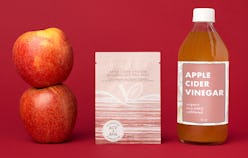 "My mom always raves about the many uses of apple cider vinegar and for many years I didn't believe its power," Kayla, the innovator behind Volition Beauty's ACV peel pads, tells The Zoe Report via email. But after trying ACV for herself, she saw a reason to rave, too. "I found out that apple cider vinegar not only improved the texture of my skin, but it helped reduce the appearance of my blemishes and acne, which I have suffered with my entire life."
Before Volition revolutionized the industry through crowdsourcing beauty ideas like Kayla's, this story would stop there and the peel pads wouldn't exist. But after Kayla shared her ACV success story on YouTube — and received over 2.4 million views and thousands of messages — she pitched her idea to Volition. Together, the beauty company and Kayla worked to perfect the peel pads' light scent and pretty packaging, and in time, the Apple Cider Vinegar Resurfacing Peel Pads were born.
Retailing at Sephora for $64 (per pack of 30), the easy-to-use peel pads marry ACV with other powerful, vegan skincare ingredients. Glycolic acid gives the pads an exfoliating and resurfacing effect, witch hazel naturally tones and cleanses, and ACV does exactly what Kayla found it did best — erases blemishes while treating uneven skin texture.
The pads are made to slip onto your fingers during application; no awkward fumbling with a flat cotton round or accidentally dropping it in the sink. "Personally, I used apple cider vinegar on a cotton pad on my face for years. I thought it would be so innovative to create an all-in-one little peel pad pocket that would be easy to use for on-the-go," Kayla says.
You should try the peel pads over regular ACV for more than just sheer convenience, though. "Straight, food-grade apple cider vinegar is very strong and too harsh for most skin," Volition's co-founder Brandy Hoffman explains over email. To make a safe, effective version of the DIY hack, Volition put ACV into the hands of its team of chemists. "Our processing of this ingredient, along with pairing it with other AHAs, packs a powerful, results-driven, convenient peel," Hoffman says.
But what exactly is it about ACV that makes the pantry staple a skincare powerhouse? "Apple cider vinegar is chock-full of minerals, vitamins, and acetic and citric acids, allowing for true, transformative results," Hoffman notes. "Accompanied by AHAs derived from glycolic acid and fruit extracts, it has been expertly processed to be gentle enough for daily use."
Shop the Apple Cider Vinegar Resurfacing Peel Pads below, and all of Volition's skincare products on its website. But don't wait too long; with an entire online community helping to create its products, new Volition skincare gets scooped up fast. Want to join the fun? You can vote between Volition's current skincare and beauty campaigns on its website, too.