The Genius Crowdsourcing Beauty Concept That Could Revolutionize The Industry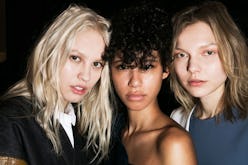 Considering the incredibly saturated market, it's hard to justify any more beauty brands as necessary. Volition, however, is one formidable exception. The line, launched by two industry veterans, is the first to create a community where experts and real women collaborate on the next big thing in beauty. Volition allows people to submit ideas for makeup and skincare items and then vote on their favorites, utilizing this crowdsourced data to create products for which there is a true demand. The brand, launched just last year, is quickly gaining steam—tens of thousands of members engage with the site and purchase the curated assortment of goods they've already created. Instead of allowing a small room of executives dictate what's next to hit the market, Volition seeks to disrupt the industry by giving power back to the consumer—and we couldn't be more thrilled at the opportunity to have our voices heard. See some of our recent favorites from the brand, and check out the site to shop and submit your own great ideas.
Homepage photo: Getty Images
Get To Know Volition
Mix this bronzer into your foundation or tinted moisturizer for a believable tawny glow.
This mask sucks the toxins out of pores, leaving skin soft, purified and hydrated. Buh-bye, blackheads!
If you've been searching for the perfect daytime eye cream, look no further. The weightless texture of this gel means it won't crease when makeup is applied on top of it.
While many creams of the sort are glittery or sparkly, this rich milk contains innovative light-reflecting particles for a result that's actually softly pearlescent.