Victoria's Secret Wants To Be Your Go-To Swimwear Brand Again
Alberto E. Rodriguez/Getty Images Entertainment/Getty Images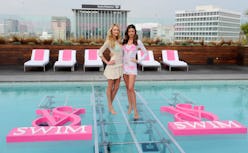 Victoria's Secret had an eventful few weeks, what with the lead-up to its 2018 Victoria's Secret Fashion Show, which taped on Nov. 7 in New York City; the next day, Vogue.com published a controversial interview with CMO Ed Razek, who defended the lack of inclusivity and diversity in Victoria's Secret's shows. (He later apologized after considerable backlash.) And, while Rezek remains in place, the company swiftly announced the resignation of CEO Jan Singer, who was replaced on Nov. 19 with John Mehas, the current president of Tory Burch. His first order of business? A proclamation that Victoria's Secret is bringing back its swimwear line.
"Our number one priority is improving performance at Victoria's Secret Lingerie and PINK," said L Brands CEO Leslie H. Wexner in a statement accompanying its 2018 third-quarter earnings report, according to Fashionista. "In doing so, our new leaders are coming in with a fresh perspective and looking at everything … our marketing, brand positioning, internal talent, real estate portfolio and cost structure. Most importantly, we are focused on our merchandise assortment – it all starts with the customer saying 'I'll take it.'"
Victoria's Secret made the decision to move away from its swimwear line — which was a huge part of its business since it launched in 2008 — in April 2016, a choice that proved to be unwise: According to its 2017 fourth-quarter earnings report, the brand was still hurting. "The exit of the swim and apparel categories had a negative impact of about 3 percentage points and 5 percentage points to total company and Victoria's Secret comparable sales, respectively," the earnings press release said.
Though those percentages may sound small to you on their own, the trend of declining sales has affected the brand across the board. According to Forbes, Victoria's Secret's comparable sales have been dropping since 2016, with the recent fiscal quarter showing the same: Victoria's Secret experienced a 6 percent decline in physical store comparable sales, meaning that shoppers aren't spending their money at Victoria's Secret like they used to. The Zoe Report reached out to Victoria's Secret for comment about the swimwear line's size range and will update this story as more information becomes available.
Beyond bringing back the popular swimwear, Victoria's Secret confirmed it will be expanding into additional categories.
"We will also be expanding our assortment to include new and previously exited categories, with new licensing opportunities in eyewear [and] footwear," Victoria's Secret's CFO Stuart Burgdoerfer confirmed in an earnings report released Nov. 19. Victoria's Secret currently sells pool slides and university-branded sunglasses via its PINK line.
Moves to expand Victoria's Secret's selections may only help attract new customers — and win back old ones — for the brand still heralded as one of the top lingerie companies across the world. After all, according to Harper's Bazaar, 800 million people still tune in to watch the Victoria's Secret Fashion Show each year, earning it the title of the 'most-watched fashion show in the world' — and many of those viewers have money to spend.
With Victoria's Secret's upcoming swimwear line set to launch in spring 2019, only time will tell how the undoubtedly flirty bikinis and one-pieces will perform next summer, and if refreshing the iconic brand will pay off.