This Vintage Boot Style Will Be Your MVP for 2019
Pixelformula/Sipa/Shutterstock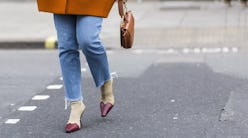 Any shoe wardrobe worth its salt has a hearty sampling of ankle boots. Unlike pumps, which can tend to skew dressy, and flats, which can tend to skew casual, ankle boots are the all-occasion hero of the footwear category. And this year there's one style you don't need to think twice about, a Victorian-inspired ankle boot. While season to season, the trends may shift, these boots aren't just an impulse purchase. In fact, it's the one style you can feel zero guilt splurging on, as you can reach for them no matter the occasion or time of year. When it comes time to invest in a new pair of boots, it's important to make sure you'll still like them after the novelty has passed, and that you'll hit a reasonable cost-per-wear a few months down the line. These boots fit the bill.
You might have first noticed the style with Phoebe Philo's Céline Spring 2018 collection, when models sauntered down the runway in the Madame Boot: a stretchy sock boot with a fluted heel and notched leather appliqués at the toe. Its Victorian-era vibes and posh old-lady elegance made it an instant standout. Think late 1800s-early 1900s, French aristocrat meets Mary Poppins — but updated for the modern woman.
No sooner did the boots hit the runway than they started popping up everywhere. On the streets of Fashion Month, on style influencers' Instagram feeds, on celebrities and models — the Madame Boot was an instant icon, not to mention a sure-to-be collectible piece considering Philo's impending departure from the label. (RIP é.) Though the collection showed in Paris in October 2017, the boots continue to pop up on social media.
Really though, this is just one example of the larger trend. Granny boots have began trickling down through the contemporary labels and fast-fashion giants — some are clearly just replicating the Céline hit, while others are tapping into the look on a broader level. Emerging brands like By Far, YuulYie, Intentionally Blank, Miista, and Dorateymur have put their own spin on the French Pompadour theme. In addition to the flared heels and toe-cap accents hallmarked by the Madame Boot, other style motifs include pointy or squared-off toe boxes, lace-up vamps, covered buttons, tall shafts, and maybe a bit of brogue detailing or embroidery. This trend has proven to be a lasting favorite of fashion editors, influencers, and It girls, who have shown just how versatile and modern the various interpretations of the vintage-style ankle boot can be. If you're not yet convinced that granny boots can be worn with practically everything and most definitely belong in your shoe collection, the style evidence below should seal the deal.
A sock-style bootie can have an ultra leg-lengthening effect when you pair it with skinny jeans in the same color.
Vintage-inspired booties and unfinished denim help balance out a modern, sculptural coat.
Transport yourself to the Victorian era with a pair of side-button, cap-toe boots and an elegant, grey shirtdress.
Granny boots give your borrowed-from-the-boys ensemble a touch of ladylike polish.
Take the athleisure lane and pair your fitted boots with a sporty nylon tracksuit.
Go full antique glamour in a slouchy knit cardigan and velvet lace-up boots.
This is proof that the trend works for any season — just lighten up your color scheme.
Further evidence that this should be your new go-to shoe — even for evening.
An hourglass-cut blazer is reminiscent of the Victorian Era's corseted silhouettes.
Lace-up boots don't equal a strait-laced look. Throw in an edgy zebra print for good measure.
Looped-button closures feel especially period-authentic. To keep this old-fashioned style from feeling stuffy prudish, pair it with something light and feminine, like a floaty floral frock.
If your style leans more trendy than traditional, offset your modest granny boots with a bold mix of prints, or choose a shoe style with a modern design updates.
A cropped hem is ideal for keeping your booties on display.
Bring tights into the mix for extra coverage in winter. Solid black is a safe bet, or for a bit of fun, try patterned and lace styles.
A double dose of leopard will shake any notions you have about pointy-toed boots being severe or puritanical.