9 Brands To Shop If You Miss Phoebe Philo's Céline
Cornel Cristian Petrus/Shutterstock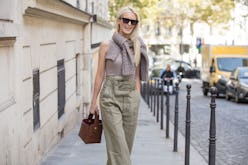 This fall marked Hedi Slimane's debut as creative director of Celine, and along with the new accent-less logo came an entirely new look. (Well, a new look for Celine.) Slimane's inaugural Celine collection was a showcase of his signature aesthetic: glam rock, '80s-inspired, lots of black. It echoed the designer's past work at Saint Laurent and Dior Homme — a stark contrast to the modern, minimalist-meets-artful elegance Phoebe Philo established during her 10 year tenure as the brand's creative director. The change has left many fans searching for brands like Céline (accent included) to fill the gap.
While this kind of takeover isn't exactly rare in fashion's ever-changing landscape, fans of Philo's oeuvre have made a point to express their love and appreciation of the "old Céline" in the wake of the rebranding. At Paris Fashion Week, emotional show-goers dressed in Céline gathered in the streets to honor and celebrate the iconic designer (a moment captured by street-style photographer Tommy Ton). On Instagram, tribute accounts such as @oldceline, @phoebephilodiary, @philophile__, and @phoebesceline began popping up, memorializing the era with photos of collections and campaigns.
Sure, you can always shop the archive on resale sites, but Philo's exit has left many looking for alternative labels that convey a similar understated sophistication and quiet luxury. Though, of course, the original will always hold the top spot for Philophiles, here are nine brands that may help fill the Céline-shaped hole in your hearts.
Rejina Pyo
London-based designed Rejina Pyo understands a concept that was central to Phoebe Philo's vision: that minimalism and eclecticism are not mutually exclusive. While there was a foundation of simplicity present in every Céline collection, Philo's designs occasionally featured abstract prints, splashes of color, and graphic elements. The same can be said for Pyo, whose looks are both understated and artistic — because the modern woman can't be boxed into a single category.
Totême
The brainchild of Swedish stylist Elin Kling and her husband Karl Lindman, Totême is a mecca for basics that are anything but. Imbued with a modern Scandinavian sensibility, the line features timeless wardrobe essentials (think tailored oxford shirts, structural wool jackets, black trousers, and cozy knits) that are meant to be styled in that effortless, dressed-up-meets-casual kind of way that you'd expect of all the cool Stockholm girls.
Cyclas
A recurring theme among all these brands is the duality of their designs: perennial yet of-the-moment, elegant yet easy, understated yet artistic. Cyclas is no exception. The brand embodies a Japanese sensibility, with founder Keiko Onose thoughtfully combining sleek shapes, clean lines, and unique color combinations in her collections. Some of the most Céline-esque pieces in the pack are the modernized plaids and the structured bib and apron belt accents.
Paris Georgia
This New Zealand brand produces wearable, everyday pieces, elevated by a luxurious refinement and subtle sensuality. One thing designers Georgia Cherrie and Paris Mitchell do especially well is play with proportions by pairing a longline tunic with a floor-length skirt or flowing, wide-leg trousers, for example, or crafting an ultra-tailored jacket with exaggerated sleeves and an off-the-shoulder neckline. These are the types of sumptuous design choices that characterize Paris Georgia, and put it in the good company of Philo-era Céline.
Cienne
Launched in 2014 by Nicole Heim and Chelsea Healy, Cienne exudes the principles of stylish women New York women: original and creative enough to be relevant in the moment, but built on the fundamentals of refinement and discerning taste that withstand the test of time. The subtle use of color and rich leather, and considered inclusion of the occasional retro print are especially reminiscent of some of Phoebe Philo's signature moves.
Marina Moscone
When reviewing Marina Moscone's latest lineup of designs, Céline historians might recognize familiar fringe details and side-cut-outs from Philo's Spring 2015 collection, or the sculptural tailoring from Fall 2013, the silky silhouettes and structured layer pairings from Spring 2013, and the splashy watercolor prints from Spring 2014. Founded in 2016, Marina Moscone is carrying the torch of the classic Céline aesthetic.
The Row
Perhaps the most obvious of the bunch, Mary-Kate and Ashley Olsen's label is cut from the same cloth as Phoebe Philo's Céline. Upon the announcement of Hedi Slimane's appointment, many suggested that The Row designers would've made a more suitable match to take over the brand. The parallels are undeniable, from the relaxed silhouettes and the primarily neutral palettes to the overarching sense of luxury instilled in every collection.
Joseph
If you're looking for a brand that captures Phoebe Philo's creative color play within a framework of closet essentials, Joseph's mix of modern sportswear and retro motifs is sure to fit the bill. Many of the pieces echo past Philo icons, such as wrap styles cinched with ring-loop belts, color-blocking splashy hues against classic neutrals, deconstructed silhouettes, and luxurious draping and pleating.
Gabriela Hearst
Beauty and utility dance together in every piece Gabriela Hearst creates. Her brand is rooted in the heritage and nostalgia of her family's ranch in Uruguay, which comes through in Hearst's emphasis on wearability, timelessness, and impeccable construction. She elevates from there by bringing in modernist details, strong silhouettes, and refined textiles to give the line an alluring down-to-earth elegance.