Victoria Beckham Dressed To The Nines While Yachting With Elton John
Andreas Rentz/Getty Images Entertainment/Getty Images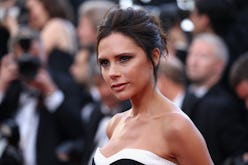 Sometimes, you see a celebrity moment so over-the-top luxurious that it looks to be literally dripping with Dom Pérignon and gold. Victoria Beckham wearing a white gown while yachting with Elton John in the South of France is one of them. This, apparently, is how the rich do vacation.
The singer-turned-fashion designer has been working up to this moment since she and her family commenced their grand European holiday three weeks ago. It started with a humble anniversary celebration at the ornate Palace of Versailles. Casual, right?
Soon after, the family jetted over to Puglia, where they went for bike rides, lounged beachside, and photographed a handful of sunsets, which they shared on their respective social media accounts. It all started to seem fairly normal until the Beckhams flooded our Instagram feeds with photos of Elton John.
The picture of OBE recipient Victoria Beckham and Sir Elton John is one for the history books, especially because John's Hawaiian shirt, printed shorts, and bedazzled sneakers were a hilarious contrast to Beckham's elegant white gown.
It had to be the chicest thing any non-bride has ever worn on a yacht. Miles of delicate fabric, it seemed, held together by a stringy halter top made for one of the designer's most extra moments yet.
Beckham shares Anna Wintour's philosophy of never dressing too casually, even when she's surrounded by her kids and husband, who are all in soaking-wet swimsuits on a boat. Elton John and his husband, David Furnish, are both in their weekend outfits, consisting of Stetson hats and Aloha shirts. Meanwhile, the fashion mogul is dressed in what could very well be a wedding gown.
David Beckham joked about his wife's outfit in an Instagram Story, saying, "I mean come on really," with the rolling eyes emoji. "Boat wear @victoriabeckham style." She later got revenge by posting a photo of him sleeping in a printed-silk Versace top.
Beckham, known for her extraordinary style, is constantly dressed to the nines. This latest gown moment, though, reached new levels of chicness, even for her. While she did say on Instagram that she wears that long gold pendant necklace with all her Victoria Beckham maxis, this number doesn't look to be one of her own designs (for once).
Feeling inspired by her extravagant look? A few sleek gowns that are from her Pre-Fall/Winter collection, ahead.
Shop The Look