4 Pieces Every Woman Should Own By 60, According To Anna Wintour
FACUNDO ARRIZABALAGA/EPA-EFE/Shutterstock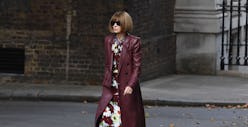 If there's one person who dominates the fashion industry as the Queen reigns over the Commonwealth, it's a 69-year-old woman with a fantastic haircut. Having dictated the trends for decades, you could say the editor-in-chief of Vogue knows a thing or two about curating the perfect outfit. A little hint: It all begins with Anna Wintour's wardrobe staples.
The British journalist has been the face of fashion since the '80s. No runway show would be complete without her presence in the front row. The top designers of today would barely be successful without her approval. To put it simply: Wintour keeps the industry's wheels turning.
It must be stressful for a woman of that caliber to get dressed every morning. The expectations are so high for the Vogue veteran to be constantly in-style (have you ever seen the editor in a sloppy ensemble?). Wintour copes with the pressure with a fail-proof outfit formula that has been her fallback for years.
Wintour's formula consists of a few basic staples that can easily be switched around and mixed up to create endless outfits. Ahead, the four wardrobe essentials this fashion icon can't live without (her signature sunglasses not included).
We only include products that have been independently selected by The Zoe Report's editorial team. However, we may receive a portion of sales if you purchase a product through a link in this article.
Printed Midis
Just about every outfit Wintour wears begins with a mid-length dress in a funky print. On occasion, she'll switch it up with a Chanel skirt suit, but for the most part, her style is dominated by bold midis, whether they be covered in colorful florals or geometric prints. Pair them with contrasting patterns or keep them simple with subdued accessories. Either way, a printed midi is an everyday necessity for a Wintour-inspired look.
Statement Necklace
You won't catch the fashion empress in public without some variation of a dazzling statement necklace. Her gemstone-clad chokers are as engrained in Wintour's signature style as her blunt bangs and trademark sunglasses. Every day, she drapes one of these chunky crystal accessories over the neckline of her printed midi, and voila! A combination fit for royalty.
Leather Trench
The leather trench might be having a moment, but Wintour was wearing this sleek jacket style long before Kendall Jenner and Bella Hadid. A glossy, floor-length leather coat is her go-to outerwear. Just recently, she sat in the front row of Thom Browne's Paris Fashion Week show wearing one in royal blue. She's been wearing an olive-green version with a fur collar all winter, too.
Snakeskin Boots
Lastly, Wintour always sets her outfit with a snakeskin boot. Her shoe collection is full of these chunky-heeled boots in white, mahogany, bright red, and beyond. They're always tall enough to reach the hemline of her midis and often offer a bold contrast in prints. What better footwear to pair with spring dresses, anyway?