Victoria Beckham Found A Chic Way To Style Silk Dresses This Winter
Matt Winkelmeyer/Getty Images Entertainment/Getty Images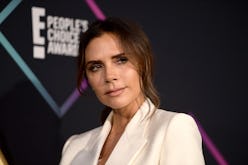 Aside from freezing temps, shorter days, and black ice puddles of doom, a major downside to winter is figuring out creative ways to switch up your wardrobe. When those trusty go-to items begin to feel stale, a surefire way to give them new life is through creative layering, Victoria Beckham's turtleneck and dress combo being a prime example.
The fashion designer stepped out in Manhattan on Weds. with her sleek turtleneck layered beneath a silk dress from her namesake brand, effortlessly demonstrating how knitwear can make summer dresses totally wearable during colder months. Accenting the multicolored pattern, Beckham's maroon top coordinated perfectly with her sky-high stiletto boots. The style icon and mother of four clearly wasn't about to let a little New York City chill get in the way of making a splash, and she gently reminded fashion lovers everywhere just how far a little creative layering can go.
With her signature statement eyewear and army-green clutch, Beckham pranced through the brisk air effortlessly, causing fashion girls to rethink stowing away those floaty, lightweight dresses for the entirety of the season. One look at Beckham's inventive pairing will have you resurrecting your favorite floral frocks and slip dresses in no time.
Whether you're itching to incorporate your favorite lightweight dresses into your winter edit, or are just plain tired of your go-to sweater and jeans, this outfit recipe is sure to add some unexpected flair to your cold-weather wardrobe. The web is chock-full of formfitting knitwear and dresses perfect for layering, but you can start out with a few picks sourced by The Zoe Report, below.
Shop The Look