Victoria Beckham's In-Flight Beauty Routine Calls On This Luxe Face Wash
Beretta/Sims/Shutterstock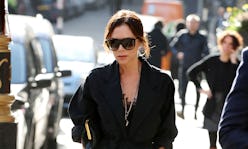 As a bonafide fashion mogul and mother of three, Victoria Beckham pretty much stays on the go. As such, the London-based jet-setter consistently shares her airplane-friendly hacks on Instagram, and Victoria Beckham's latest post on travel beauty essentials is worth bookmarking. The 45-year-old took to Stories while packing her bags in L.A. on Mon., plugging a few of her high altitude must-haves, including an innovative flatiron busy beauty-obsessives need on-hand.
The cordless straightener from Balmain is an ideal size to store in a weekender or in your desk at the office, and Beckham raves about its ability to get hotter than other chargeable irons on the market. "I have been looking for the perfect hair straighteners that you can use onboard that you don't need to plug in, that get nice and hot," she explained. "Most of them don't get so hot, but I found these Balmain hair straighteners that come in these really nice bags. I think they're going to be a life-changer."
Beckham has clearly perfected her holy grail product lineup for mid-flight pampering, and the part-time beauty vlogger certainly doesn't sleep on skin care. Beckham has shared her must-have skincare products for travel before, and this time around she raved about a cleanser from celebrity-approved brand Barbara Sturm. "It gets nice and foamy, and comes in this really nice little travel size, so it's perfect to use on the plane," Beckham explained, showcasing the 150ml cleanser bottle that rings in just under $50.
Last, Beckham dished on her favorite fragrance, Mango Skin from Vilhelm Parfumerie, a niche fragrance house based out of New York City. "I'm so excited that it now comes in a cute little travel bottle," the fashion designer explained, showcasing the miniature bottle that's as aesthetically pleasing as it is functional. "The other bottles are quite big; they're absolutely beautiful and they look great on your dressing table."
Well, there you have it. The travel beauty extraordinaire has spoken, and now is the perfect time to update your selection for spring and summer trips ahead. So start by snagging one or a few of Beckham's must-haves below, because traveling shouldn't have to interfere with looking, feeling, and smelling like a million bucks.
Shop The Products