This Is Victoria Beckham's Favorite Nail Polish Of All Time
Beretta/Sims/Shutterstock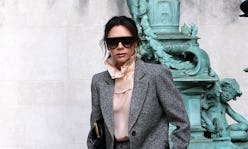 Victoria Beckham is back at it again with another round of Instagram travel diaries, in which the designer empties out her essential beauty bag for jet-setting, revealing a coveted lineup of holy grail products she won't take off without. It's no surprise that the fashion and beauty mogul had plenty of skincare products on deck, but Victoria Beckham's favorite nail polish stood out from the rest.
Clean nail polish brand Bio Seaweed Gel has been a regular in Beckham's beauty lineup for some time now, and for good reason. One major upside is its mission in nixing " the big five" (formaldehyde, toluene, DBP, BHA, and campho) from its formula, which helps keep nails healthy and hydrated. Though Beckham is sporting an icy white mani in the Instagram Story, the former Spice Girl shared a more sultry hue when showcasing the polish she always keeps with her while traveling.
"The colors are great, and the top coat is incredible. Your nails stay super, super, super shiny. It is the absolute best," she raved about the brand's deep-red shade, Mary. This isn't the first Beckham has vouched for the hue, either. The very same one made an appearance back in Nov., on Beckham's cherry-colored manicure ahead of the People's Choice Awards.
Even though pastel nails and rainbow polishes have been taking over beauty mood boards and Instagram feeds as of late, there's no denying that a classic red manicure never goes out of style. In honor of fresh blooms that are bound to pop up any day now, consider opting for the timeless, Beckham-approved hue this spring.
Whether you're looking to attempt an at-home gel job or are sticking to a standard lacquer, there's a plethora of similar shades to choose from. So shop The Zoe Report's deep-red picks, below, and add an instant touch of sophistication to your seasonal style with just a few swipes.
Shop The Look