Victoria Beckham's New Capsule Collection Features The Perfect Dress Wardrobe
Victoria Beckham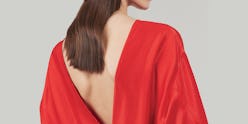 It's important to celebrate major life milestones. From a big birthday to a incredible career accomplishment, marking those moments reminds you how far you've come — and all the greatness that's yet to happen. As it happens, Victoria Beckham is celebrating a sort of combination of the two aforementioned milestones, as her eponymous line celebrates ten years in 2019. And to commemorate the occasion, the Victoria Beckham 10th Anniversary Capsule Collection just launched, and it's complete with the designer's most thoughtful, iconic dresses to suit any setting. Now's your chance to score one of Beckham's signature styles, and celebrate the brand's continued success in the process.
On March 21, Victoria Beckham launched the VB Dress Capsule online as part of its wider Spring Summer 2019 collection, and as a commemoration of the brand's past ten years in the world of fashion. The collection revives some of Beckham's most signature silhouettes from years past, but reimagines them for today's take on modern femininity. So while Victoria Beckham's most dedicated fans may recognize some of the dresses' fluid, iconic styles, these 15 new iterations still present a clear step forward for the brand.
Considering Beckham's continued mission to provide women with stylish, super-wearable pieces that inspire confidence and strength no matter the occasion, it's no surprise that this new capsule focuses on the same thing, offering up 15 different dresses for everything from office days to date nights to black tie events.
The color palette keeps things simple, but strong, in shades of black, ivory, red, and blush, and the silhouettes combine sultry features like low backs and body-skimming cuts with timeless flounced skirts and asymmetric hemlines. The result? Classic, yet completely cool pieces you'll pull from your closet for years to come.
Scoop up the capsule's Jacquard Floral Panel Dress, $1,685 and in a print from the current spring collection, for when you need to look put-together from day to night. The fitted panel dress features a mid length that's more than appropriate for work meetings, but still packs a sexy-factor for after-office drinks and dinner. Or, opt for the Fitted Seam Detail Dress, $1,430, in red or black, which shows off cool seam detailing along the sides and a high, round neck for a sleek look.
Beckham's much-loved Open Back Draped Dress, $1,935, stuns in the capsule collection in both blush and red, and is practically perfect for an elevated evening affair, while the floor-length Long Sheer Back Sleeveless Dress, $2,375, provides a more demure option.
It's clear that you really can't go wrong when considering the 15 chic dresses available in Victoria Beckham's newly launched capsule collection. In fact, the hardest part would probably be deciding on just one. Below, see and shop some of the sleek revamped designs from the 10-year-old label's latest drop, and head to the brand's site for the full line.