Here's When Verb's New Hair Collection Officially Launches (& Why You Need It)
Courtesy of Verb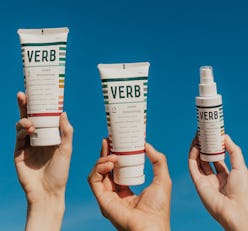 Sometimes, there's nothing better than a fresh start. That applies to pretty much everything, whether it be a closet reboot at the beginning of a new season or a week-long detox to get your body running right. And after everything your hair goes through, from heat styling to harmful pollution exposure, it definitely makes the list of things in need of a refresh. That's why you'll want to grab Verb's new Reset collection to restore your strands to their former glory — before summer gets a chance to do even more damage.
Hitting the reset button is hard to do if you don't have the right tools. Which is why on June 27, Verb is dropping a brand new line that'll bring you everything you'll need to reboot your hair — and it's already got a waiting list that's over 1,000 strong. With buzz that big, and a winning track record when it comes to quality haircare solutions, there's a pretty high chance this new launch is going to be great. But what's it all about?
"At Verb, we focus on creating products that make your hair both look and feel better. Over time, things get in the way of product performing to the best of its ability — heat usage, color treatments, product build-up (AKA lots and lots of dry shampoo), environmental damage, natural wear and tear — and the hair needs a little restart button," Verb Founding Member Claire Moses tells The Zoe Report. "Reset is that button. The Reset line is designed to bring the hair back to its most natural state every 4-6 washes to ensure you're making the most of your product, and your hair is at its healthiest."
The three-step Reset Collection line features a clarifying shampoo, a repairing mask, and a sealing mist, which are designed to work together for a replenishing effect. Use the clarifying shampoo first to sweep away oil, impurities, and product build-up with naturally-restorative sea water that helps the scalp rebalance. Follow up with the repairing mask, which uses quinoa protein to strengthen and protect your strands to avoid future damage, and amino acids to encourage healthy hair growth. Lastly, spritz the line's sealing mist onto tresses to lock in all that conditioning goodness and to seal the hair cuticle for shiny, smooth, and manageable hair. The mist uses ricinoleic acid, a fatty acid from castor oil, as the super-sealing power ingredient.
And that cute, colorful packaging Verb's created for the Reset line? It's not just so the bottles look nice in your shower. The multi-colored stripes reflect the hues from the rest of Verb's product lines, to suggest that Reset is designed to be used in tandem with your existing hair routine — whether you've got color-treated hair, curly locks, fine strands, or thick tresses, Reset's here to help by swapping for your usual products every four to six washes.
Just like the rest of Verb's cult-loved products, Reset's three drops come with the same easy-on-the-eyes $16 price tag and promise to be color-safe and free of gluten, parabens, and harmful sulfates. And if you still aren't convinced to shop this fresh line as soon as it launches, everyone on the waitlist will receive an exclusive gift with purchase. So, what are you waiting for?