Urban Decay's New Collection Is Taking The Colorful Eyeliner Trend To New Levels
Urban Decay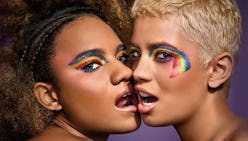 Makeup maximalists, rejoice. Clearly, it is the season of bold, bright color, and it seems that beauty brands have no intention of slowing down the surge of vividly-hued makeup launches that are clamoring for a spot on your makeup shelf. That's a great thing if you can't get enough of the statement-making shades — and the latest drop is one you won't want to miss. Urban Decay's Sparkle Out Loud collection takes the colorful eyeliner trend and turns it up a notch (or three) by adding a serious dose of sparkle.
With most things in life, moderation is key. But when it comes to the bold, colorful beauty looks that are currently trending, it's safe to say you can never have too much of a good thing — so to all the beauty brands out there: Keep it coming. Urban Decay is doing just that with its latest forthcoming launch, the Sparkle Out Loud collection that's dropping June 2019. And if you want a sneak peak you're in luck, because you can already peep the products on the brand's site.
The Sparkle Out Loud Collection shines the spotlight on the brand's Heavy Metal Glitter collection, which will serve up several new shades of the popular Heavy Metal Glitter Eyeliner and introduce an entirely new product, the Heavy Metal Glitter Gel. Both give you the glitz of a glam-rock star, plus gorgeous high-impact color that's perfectly in line with today's bright-hued trend.
The glitter eyeliner, $21 per tube, will be introduced in eight new shades and features a foolproof formula that makes working with the superfine, multi-dimensional sparkles not at all intimidating. The glitter is suspended in a clear, water-based formula that's buildable, dries fast, and locks into place without any fallout, and thanks to the thin-tipped brush, you can sweep the colorful liner across lids with precision. Grab the gilded Goldmine shade for a goddess-like effect, or go bold with the purple-hued Studio or brick-red Stonewall — the latter of which donates 25 percent of profits to the Stonewall Community Foundation, an LGBT-supporting non-profit.
Amp up the glitter by complementing your liner with the Heavy Metal Glitter Gel, a super-sparkly and buildable formula that's ready for use on eyes, face, and body. The completely-new product, $22, is inspired by Urban Decay's early-aughts glitter eye gel and will come in six different shades, from vibrant pink Saturday Stardust to the icy blue Soul Love.
Or give your eyes even more oomph by layering the Heavy Metal Glitter Eyeliner over one of the new shades of Urban Decay's top-rated 24/7 Glide-On Eye Pencil. That's right, the Sparkle Out Loud collection will include four totally new, metallic and glittery colors of its award-winning eyeliner pencil, $22, including copper-penny Lucky, and emerald green Electric Empire. Line your lids with one of these creamy colors before adding a swipe of the glitter liner to really make a statement.
The new collection isn't completely about the eyes, however. Urban Decay's also serving up four new high-shine glitter lip glosses in wearable shades like the juicy pink Hot Love and an opalescent shade, Star Stunner. The Hi-Fi Ultra Cushion Lipgloss, $20, go on smooth, not gritty, and give lips a cool holographic glow.
Keep scrolling to check out all the sparkling new products, and be sure to sign up on Urban Decay's site to be among the first to know when the collection goes live (you'll be thankful you did when it quickly flies off shelves).