9 New Arrivals At Ulta That'll Help You Seamlessly Transition Your Makeup Bag Into Fall
ImaxTree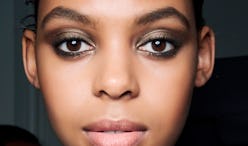 There's something about that first cool breeze of the season that really changes your whole mindset. Yes, it may *technically* still be summer, but once the leaves begin to turn and the temperatures drop under 80 degrees Fahrenheit, it's go time in terms of embracing fall. And while for many that means covering the house in pumpkins and layering on sweaters, beauty lovers know there's really nothing more satisfying than switching up your makeup routine for the new season. Obviously, your favorite retailers understand that more than anyone — which is why Ulta's fall 2019 makeup arrivals are the perfect place to start when it comes to that process.
Begin by turning your attention to the most obvious products — you know, the colorful palettes and lipsticks that'll replace the light, carefree shades of summer. Anastasia Beverly Hills just released its Norvina Pro Pigment Palette Vol. 1, which features 25 deluxe-sized bold hues. Use it to swap out your light blue for a darker option or embrace the shiny eyeshadow trend in full force — it provides basically endless opportunities to create a whole new fall mood.
Thinking of ditching your glossy lips for something a little more understated? Clinique's Even Better Pop Lip Colour Foundation, $19.50, just landed at Ulta and features 28 neutral shades that'll pair perfectly with those darker eye colors.
You may just want to go ahead and replace all those dewy, shiny products with something a little more matte, in which case you'll have quite the selection. Start by adding VDL's $32 Velvet Blur Primer to your cart to give your makeup a smooth (& moisturizing) base. Build onto that layer with the Studio Fix Soft Matte Foundation Stick for $31 from MAC Cosmetics to give your look a shine-free, long-lasting finish. Then finish everything off with Urban Decay's new Ultimate Brush Off Translucent Loose Setting Powder, which is $36 and designed to give your foundation staying power without getting all cakey.
There are plenty more new products to get you excited for fall at Ulta, so keep scrolling for more of The Zoe Report's favorites to help you transition into the season ahead.