Here's Why The Internet's Buzzing About Anastasia Beverly Hills' Latest Eyeshadow Palette
Courtesy of Anastasia Beverly Hills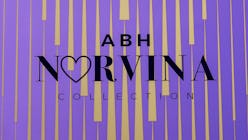 Chances are high that you've already seen Anastasia Beverly Hills' Norvina Pro Pigment Palette Vol. 1 even if you only occasionally keep up with the online beauty community — it's currently everywhere. Unveiled Aug. 20 on the makeup brand's Instagram account, the new palette is the very first release in Anastasia Beverly Hills' Norvina collection; and, since the moment it was first teased on social media, fans have been not-so-patiently waiting for it to arrive. Can you blame them, though? The new eyeshadow and pressed pigment palette is the largest Anastasia Beverly Hills has ever released, offering a whopping 25 deluxe-sized shades for just $60.
Fortunately, fans didn't have to wait too long. Starting Aug. 26, shoppers will be able to buy the Norvina Pro Pigment Palette Vol. 1 on AnastasiaBeverlyHills.com, with other online retailers launching the palette on Aug. 27. And if you do want to get your hands on the palette ASAP, make sure you visit the brand's website that day — there are quite a few shoppers vying for this launch, judging by Anastasia Beverly Hills' 19 million Instagram followers and the fanbase surrounding the brand's President, Norvina.
Who played a key role in inspiring and curating the Norvina Pro Pigment Palette Vol. 1's color story, by the way. Fans of Norvina will recognize the president's signature purple housing the palette, as well as dotting the top half of the shades.
Feel like you're experiencing deja vu? This isn't the first time Anastasia Beverly Hills has released a palette inspired by its president (and her favorite color). The original Norvina Eyeshadow Palette launched on July 17 back in 2018 — and has garnered more than 700 perfect reviews on Sephora's website since then.
Unlike the first palette, the new Norvina Pro Pigment Palette Vol. 1 is more on the vibrant, artistic side; think neon pink, metallic blue, and plenty of matte purples. The only downside to the new release? According to the product description on Anastasia Beverly Hills' website, the palette is a limited-edition launch. So, if you want to try out all 25 new shades, continue scrolling down; the new Norvina Pro Pigment Palette Vol. 1 is below.