Tory Sport's Latest Arrivals Prove Tie-Dye Deserves A Spot In Your Workout Gear, Too
Tory Sport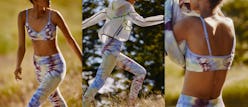 Up until this year, you probably associated tie-dye — whether it was the actual activity or the colorful pattern — with your childhood days of summer. But while this nostalgic activity and its resulting items seemed as though they would stay with your younger years, it now holds a major stake in the fashion world as a leading trend. And with Tory Sport's new activewear arrivals, the tie-dye trend is demanding an even bigger spot in your closet — and once you see these, you'll happily oblige.
Though tie-dye may have initially entered into the fashion scene as a summer trend, it's proven to be a cool and versatile way to add visual texture and color to anyone's wardrobe year-round — whether they consider themselves minimalists to their cores, all-out maximalists, or fall somewhere in between.
You've already seen the variety of ways to wear the tie-dye the trend in your everyday ensembles, whether it's for a casual weekend afternoon or a dressier occasion. However, if you're already wearing tie-dye in nearly every area of your life, why shouldn't you sport the look during your gym sessions, too? To answer that question, Tory Sport has released a slew of new arrivals that take the tie-dye trend head-on.
If you're just getting into the trend — or if you aren't usually one to go for printed workout gear — start out small with the Tie-Dye Seamless Bralette, $58, which can be styled with a pair of timeless black or white leggings. Of course, for those of you who like to wear a head-to-toe ensemble for the gym, you can always pair it with the Tie-Dye Seamless Chevron Cropped Leggings, which are available for $108.
When you aren't at the gym, throw on the Tie-Dye Tissue-Seamless Long-Sleeve Top, which costs $128, with a pair of easy pool slides or hiking-style sandals for a post-workout ensemble you can wear while you're out running errands. And once fall officially hits and you need to start bundling up, you can opt for the Cotton Tie-Dye Sweater, which can be worn before and after your workouts, as well as with a pair of vintage-style jeans and simple slides.
Scroll down to shop Tory Sport's tie-dye pieces below.