Tom Ford's Spring/Summer 2020 Beauty Look Was Surprisingly — & Refreshingly — Edgy
Courtesy of Khalea Underwood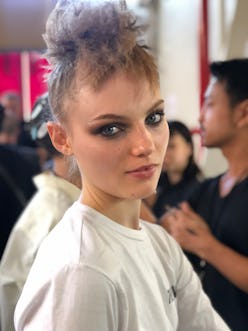 Tom Ford is chic. Tom Ford is sexy. Tom Ford is classic. This is well-known. But what I didn't know, right before walking backstage at the Sept. 9 show, is how versatile the brand can get. (I mean, the show was held in a New York City subway, station). The beauty at Tom Ford Spring/Summer 2020 actually paid homage to the '80s new wave movement, and the lead artists manage to do so in a way that felt trendy — and not like a random tribute.
For the last few seasons, many of the models wore hats or head wraps down the runway. But this time around, lead stylist Duffy wanted to make sure that everyone paid attention to the hair. "The original inspiration was a 1980s movie called Subway," he tells me. (Are you seeing the connection here?) "It featured very home-done blonde peroxide, electrified kind of hair. Today, we're filling it with mousse, blasting it out, and shaping it with our hands."
While roughly half of the models wore their natural hair ("Tom's a big fan of natural hair," he shares), some were lucky enough to get a punkified triple-knotted updo complete with crimped pieces. "We're dragging all the hair up and filling with the mousse. Then making three knots on top of the head and pinning them into shapes. It's super easy."
And though the updos were supposed to look like they had a ton of product in them — this is the '80s we're talking about, people — there's a way to keep it feeling light. "Layers," Duffy says. "Layer and layer and layer. You're doing it on wet hair, feeling it, and drying it slowly from wet to dry." This doesn't mean that every model got mousse, though. "We're reading the girls and deciding who we use product on and who we don't use product on," he explains. Natural hair needs lots of moisture, so the girls with braids and Afros were treated with hydrating oils and creams.
For the Afros, shape was of paramount importance to keep things on theme. "The hair is picked out and slightly rounded, going back to that '80s new wave. Not too square," he specifies. "The minute you go square, it's referential to late '80s Grace Jones as opposed to the early '80s where people were living that '70s moment."
The manicures were also refreshingly bold — and long. So long. "The shape is most important here," lead manicurist Mei Kawajiri says of the look, painted with Tom Ford Nail Lacquer in Mink Brulee. "It's a soft stiletto shape, not wide — a narrow, skinny, and sharp almond shape. Last season was more short and natural-looking. Tom wanted to do something edgier [this time]. But it still looks chic, still looks Tom Ford." Oh, and fun fact: Kawajiri's team hand-painted 30 sets of tips along with a few dozen extra — which is 500 tips total.
As for makeup, it wouldn't be a Tom Ford show without some smoky eye action, care of Diane Kendal. This season, she used the Nude Dip Eye Color Quad's deep gray hue in the crease and lower lash line, pale pink right on the lid, and ivory blended on brow and tear duct. For darker skinned models, she used the same technique — only with a deep bronze (from the Orchard Haze quad) on lid and orchid haze deepest shade on crease and lower lash. Because a sultry, smoky eye goes well with any decade.