Hung Vanngo Used A *Lot* Of Makeup At Cong Tri Spring/Summer 2020 — Here's Why
Courtesy of Maria Del Russo.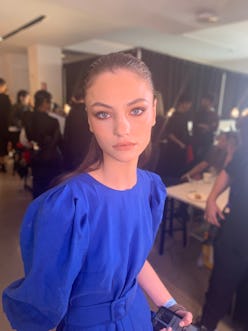 As gorgeous as the beauty looks typically are backstage during Fashion Month, the makeup tends to have one of two issues. They're either editorial looks, filled with bright colors and bold designs that most people might shy away from wearing during their daily lives. Or the look is natural and dewy with raw, foundation-less skin — also known as makeup that's only flattering if you've got Glossier model skin. So attainability isn't typically the name of the game. But Hung Vanngo wanted to change all of that at Cong Tri's Spring/Summer 2020 show in New York on Sept. 9. He sent models down the runway with full faces of makeup for a look reminiscent of red carpet glamour.
"When you see a show [at Fashion Week], the makeup is beautiful, but it's also raw," Vanngo, lead makeup artist for Maybelline, tells TZR. "It never translates to the red carpet. I wanted to create a look that could go with every single dress in the collection — so women could look at the gown and say, 'Ok, that's the makeup I'd wear with this dress.'"
For Vanngo, that meant a gorgeous smokey eye with a touch of terracotta-hued shadow and liner, lots of highlight, and a nude lip that matched each model's skin tones.
"I used a reddish-brown on the water line and around the eye," he said, referring to Maybelline's Lasting Drama Matte Liner in Rusty Terracotta. "When there's a little warmth in the liner, it helps to punch up the eye. A natural brown on its own doesn't bring out the eye color. But a little warm, reddish-brown helps to make it pop."
That reddish-brown was the perfect compliment to the shadows from Maybelline's The City Mini Eyeshadow Palette in Rooftop Bronzes and Brooklyn Nudes, which he swept over the lid and brow bone. Vanngo then filled in models' brows with the brand's Tattoo Studio Brow Tint Pen.
And while plenty of makeup artists chose to eschew mascara this season, Vanngo piled it on. "I'm curling the lashes and using three coats of the Maybelline Volum' Express The Colossal Mascara," he said. "On some girls, I'm using more than three coats." (It was at this point that I, mascara lover, squealed with joy).
The skin was perfected with Maybelline's Fit Me Dewy + Smooth Foundation, and then concealer, before two types of highlight were applied. Vanngo used the brand's Strobing Stick Illuminating Highlighter in Medium-Nude Glow before dusting on the FaceStudio Master Chrome Metallic Highlighter in Molten Gold. The result was a diffused, shimmery highlight that made the models' cheekbones pop.
Each girl got one of four lip colors — Maybelline Superstay Matte Ink Un-Nude Liquid Lipstick in either Nude Whisper, Purely Nude, Dusty Rose, or Rich Chocolate. But instead of applying it straight onto the lips with the wand, Vanngo dabbed it on, and then patted it into the lips with his fingers. "I wanted it to look fresh," he said. "The patting makes it more diffused."
If that sounds like a lot of makeup, you're right — but that's exactly the point. "I want the girls to feel sexy and confident," Vanngo said. "There's still freshness, but this look is all about glamour. I want them to feel confident enough to walk a red carpet." But just to be sure, I did a test: When Vanngo finished a model's makeup, I asked her if she felt like she could walk a red carpet, then and there. She looked at herself in the mirror, smiled, and said, "Hell yes." And if that isn't confidence, I don't know what is.