Is Highlighter On Its Way Out? Yes, According To Tom Ford
Kelly Taub/WWD/Shutterstock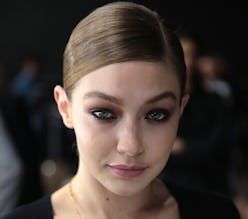 Tom Ford is one of those short, disyllabic household names that are synonymous with anything and everything extravagant... there's nothing simple about the man or his art. Or his backstage beauty, either. When you're backstage at Tom Ford, you aren't only guaranteed to spot a few supermodels in the wild (Gigi Hadid showed fellow models what appeared to be a meme on her phone, and Joan Smalls snapped a few selfies once her face was done). If you're lucky enough, you'll get an impromptu masterclass from the best of the best: Diane Kendal, who keyed the Tom Ford Fall/Winter 2019 makeup, schooled me like none other. Turns out, you *can* get a gleaming, runway-ready highlight without actually using highlighter.
"I'm not doing highlight, no," Kendal told me backstage at the Feb. 6 show, while the models squeezed one last rehearsal in before showtime. "We're powdering the T-zone and face so you get a natural sheen, so it's a natural highlight." That step, of course, was one of the last in the overall process, so let's back up a bit. To create an even base, Kendal used the brand's Traceless Stick Foundation, which finishes as a soft matte. A bit of cream from the Shade and Illuminate duet provided the subtlest of contours without any harsh, obvious lines.
"I like to use color with more blue-gray in them. Sometimes brands make contour shades too orangey," Kendal notes. "It gives a natural [finish]." For the sake of consistency, the artist gave all models natural, neutral lips as well, using foundation and a little bit of lip balm so that they nearly blended into the face.
Besides, the real show was saved for the eyes — what Kendal describes as a smoky mauve with hints of pink. She used the Eye Color Quad in 03 Nude Dip on fairer skin tones, while the Eye Color Quad in 03 Nude Dip and 13 Orchid Haze was painted on darker skin tones. "We're placing the pinkest color on top of lid, adding water to make it glisten on top," she noted. "Then we're adding the purple color in the outer corners, into the crease and underneath to emphasize it more." Once the shadows were applied, she tapped on a little bit of Eye Gloss on top of lid with liner "so it breaks up a bit," she notes. "It looks smoldering and sexy." Then, she delicately drew on a thin line of Eye Defining Pen in 01 Deeper close to the lashes, going over it with Eye Kohl Intense in 01 Espresso for optimum smokiness.
Kendal's special trick for generating the smoke is to blend, blend, blend — going into the eye so it's softly diffused and multi-layered, she says. There's supposed to be dimension so it doesn't look too heavy... just a bit worn in. The function of the eye gloss on top of the lid, of course, is so that the light hits it just right on the runway — hence why she didn't need to go overboard with highlighter. In Kendal and Ford's world, the eyes do have it. And if you want "it" too, shop some of the key products from the look, below.