This Fall 2019 Sweater Trend Is Transitional Dressing At Its Finest
REX/Shutterstock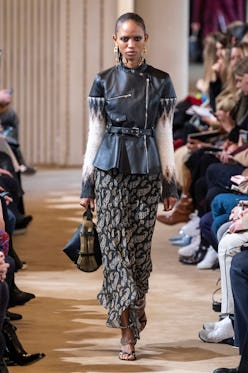 As far as collections go, fall fashion is a confusing in-between; interpreted differently by every designer. You might see a floaty sundress presented alongside a chunky knit or a shearling jacket, because well, September through December is a time for remarkably unpredictable weather (and so, unpredictable clothing). Traditionally, the best way to navigate this period of time is to get your hands on layerable pieces you can pile on in the pre-winter chill or peel off if summer just won't seem to let up. But next fall, you're set to meet a new transitional staple that's perfect for Fall 2019's in-between season: the sweater trend you can now refer to as the hybrid knit.
The deconstructed aesthetic has permeated fall '19 runways and one key piece of the larger trend has been the reoccurrence of tops, dresses, and outerwear that combine knitted sleeves or bodices with an alternative fabric, such as silk or cotton. Ideal for warm days that turn into chilly nights, the semi-knit manages to make itself useful for a full range of temperatures. And, like other convertible pieces (think: skirts with built-in shorts, or jackets with zip-off sleeves), it manages to toe the line between artful and practical — a testament to it's multitasking abilities.
Need a visual? At Magda Butrym, a cream-colored silk blouse on top turns to a knitted bodice at the chest, creating a layered look that almost appears as a corset over a top. It manages to take the romance of a typical going-out piece, but adds on a little extra warmth so you can leave your jacket at home and travel light to your nighttime outing. Calling it now: This blouse-sweater hybrid will sell out everywhere.
Alternatively, at Altuzarra, the hybrid-knit appeared in the form of outerwear, with a leather jacket that featured fair-isle sweater sleeves. What do you wear when you can't decide if it's sweater weather or leather-jacket weather? A bit of both, of course. This one mimics the look of a leather vest, but is, again, an all-in-one situation.
And at Loewe, another label known for its knits, pieces were as sheer and delicate as a vintage nightgown up top and heavily knitted on the bottom, or vice versa. In terms of craftmanship, it may seem a difficult feat to connect two completely different fabrications in one garment, but leave it to a luxury label like Loewe to make it look so simple.
The saying goes that three's a trend, which means that it's safe to assume that fast-fashion behemoths like Zara and Mango will soon present their own takes on the hybrid knit. So, even if it seems too early to think about sweater weather, you can opt into this take on knitwear as soon as you well please. For all you indecisive, seasonally-confused shoppers out there, this Paris Fashion Week trend is the best of both worlds.
Speaking of: Spring is just around the corner, and considering you may just be a shopping over-achiever, below you'll find a few early iterations of this trend so that you can get a head-start on the transitional, hybrid-sweater design your closet has been sorely missing all this time. Better now than never.