Tom Ford Beauty's Skincare Line Is Officially Happening — Here's What To Expect From The Launch
Nicholas Hunt/Getty Images Entertainment/Getty Images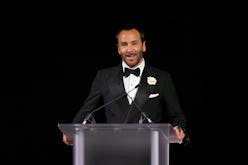 If you consider yourself a luxury skincare lover, you're gonna want to prep some space on your shelf as soon as possible, because something major is coming. A skin-focused expansion of a very luxurious label that you likely already adore is preparing to burst onto the scene to challenge the likes of La Mer, Chanel, Guerlain, and more, and it's ready to make your routine even more glamorous. That's right, the Tom Ford Beauty skincare line is officially landing in stores — and sooner than you might've imagined.
Between the launch of Marc Jacobs Beauty's very first skincare product earlier this summer and the news that Victoria Beckham will be dipping into the cosmetics, skin, and fragrance industry by late 2019, it's clear that worlds of fashion and beauty are intertwined like never before. So much so, that the news of Tom Ford taking its beauty empire to the next level by launching a skin care branch of the brand seems to reinforce the belief that there's success to be had for designers in the beauty space. But the launch of Tom Ford Research proves to be much more that part of a trend. It's a strategic, and certainly quite serious, venture.
According to a report by Women's Wear Daily, Tom Ford Research was founded three years back upon request by Tom Ford himself to establish his own lab for developing innovative and effective skin care solutions. "I wanted to start a serious skin care arm and have it be science-based," Ford said, as reported in the WWD article. "This is a real skin care product and regimen. I'm not a designer who has thrown his name on a beautifully packaged cream."
The skincare branch joins the rest of the Estée Launder Cos. Inc.-owned Tom Ford Beauty brand, which is currently ranked as the 25th largest beauty brand globally — with plans to rise even higher over the next several years and to double its sales volume (while still retaining its incredibly high-end positioning) thanks to the new complexion-focused creations.
Two products, Serum Concentrate to be priced at $350, and Crème Concentrate, retailing at $450, will be the inaugural drops under the new arm for the beauty brand, making their debut in August 2019 exclusively at Saks Fifth Avenue and Tom Ford stores. From there, the brand will swiftly roll out to more retailers in September, totaling out at about 500 U.S. locales. Three additional products, among them an eye cream, are set to launch in March 2020.
And as for the bespoke, lab-tested formulas you can count on from Tom Ford Beauty's new skin care? They lean on a currently-popular ingredient that has something in common with your morning cup of coffee.
"Years ago, a dermatologist told me that the best thing for puffy eyes was moist tea bags. Every time I did it, I noticed that it also moisturized my skin," reads a quote from Ford in the WWD article. "Caffeine became one of the most important things we researched."
While the buzzy ingredient, sourced for Tom Ford Beauty from very rare white porcelain cacao and gyokuro, a Japanese green tea, is slated as the hero in the skin care line, you can also expect to see glycolic acid and lactic acid featuring prominently to aid in cell turnover, plus hyaluronic acid and peptides to promote moisture retention and a plumper, more even face.
Beauty buffs get ready, because Tom Ford's new launches are teed up to make quite the splash in the skin care world — and you'll want to be among the first to try them.