Tom Ford Beauty's Holiday Gift Sets Are Even More Luxe Than You'd Expect
Tom Ford Beauty/Instagram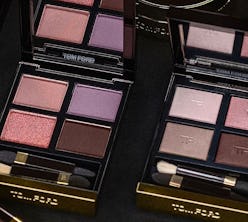 In this edition of incredibly luxurious holiday buys you never knew you needed on your wish list: Tom Ford Beauty's holiday 2019 gift sets are officially here and they're about to give you major gift lust. Of course, you'd expect nothing less from the beauty brand that boasts top-shelf cosmetics and unique fragrances you can't get enough of — but seriously, the brand seems to have outdone itself with this year's selection. In the market for a lipstick collection worth over $1,000? You'll find it here alongside more over-the-top sets that'd make any beauty buff smile this season (and long after).
If there were ever a time to indulge in something utterly decadent, it'd be during the holidays. And as far as luxe beauty gifts are concerned, Tom Ford's selection is more or less in a league of its own. From bundles of some of its bestselling perfumes (including in high-end candle form) to selections of sultry lipsticks in the brand's most iconic colors and finishes, the drops leave little to be desired.
But they don't all come for cheap, so be prepared to make a dent in your holiday budget or better yet, drop some serious hints to your loved ones.
Fans of Tom Ford Beauty's Boy & Girls lipstick collection will want to go in on the ultimate lip wardrobe Boys & Girls 50 Piece Set. As the name suggests, it boasts a whopping total of 50 lipstick shades from both the Boys and the Girls collection categories — and carries a hefty $1,585 price tag. As $865 you can get half of the fun with the Boys & Girls 25 Piece Set, which comes in either a 25-piece Boys collection or a Girls collection with the same number of luxe lipsticks. By the way, each would normally run you $36 a pop, so you do save a few dollars by snagging them all at once (especially if you're already on your way to collecting them all).
Love Tom Ford's expertly blended fragrances? The Private Blend F*cking Fabulous Deluxe Set is about as sumptuous as it gets at $1,165 and includes a 250 milliliter decanter, candle, and atomizer. Or, grab your favorite scent in candle form for $98, like fresh Jasmine Rouge, so your spaces smell as good as you. The new Soleil Neige perfume is available in a 250 milliliter bottle for $615 for a luxe gift that keeps giving year-round.
Below see the best Tom Ford Beauty sets to give and receive this season, and head to the brand's site for more.