Tom Ford's New Fragrance Is The Winter Version Of A Fan Favorite
Tom Ford/Instagram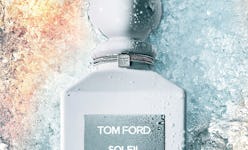 According to Tom Ford himself, the new Tom Ford Soleil Neige fragrance is more than just a perfume: It's the smell of winter wrapped up in a sleek white bottle. "Soleil Neige is the bright side of Soleil, a polar expression to Soleil Blanc's solar floral," explained Ford in a press email quote. "Radiant with winter light, the scent mimics the shimmer of sun on snow."
As any Tom Ford devotee knows, the designer is referencing the fan-favorite gourmand fragrance, Soleil Blanc — a summery perfume also available as Tom Ford's cult-famous Shimmering Body Oil. But whereas Soleil Blanc glistens in tones of gold and bronze (both as the oil, and with each sniff), Soleil Neige offers a platinum sparkle. Literally speaking here: The brand-new Soleil Neige Shimmering Body Oil is formulated with glittering platinum leaf.
But how exactly does Tom Ford capture the look of fresh, sun-kissed snow? Surprisingly, it uses citrus as a main component. The first notes of Soleil Neige are bergamot — a type of orange — and carrot seed. This contrasts directly with Soleil Blanc; its key notes are bergamot, pistachio, and coco de mer.
And like Soleil Blanc, Soleil Neige also expressively uses florals. Jasmine grandiflorum (also known as Spanish jasmine), orange flower, and unique Karmaflor are cut by the familiarity of Turkish rose, and settle into a drydown of wood, honey, and musk.
But that's not all. There are also a few final notes leftover once the perfume settles in — like a welcoming vanilla, and incense-like benzoin also found in Soleil Blanc. It shows the dimensions of this well-thought-out fragrance; toying with what made the original Soleil Blanc so eye catching, while remixing it for the cold-weather seasons.
Prices resemble the OG scent, as well. One 50-milliliter perfume bottle retails for $240, whereas the impressive 250-milliliter container goes for $615. At the moment, you can find both sizes on Tom Ford's website — along with the $100 Soleil Neige Shimmering Body Oil — or online at Sephora.
So, even if this winter remains unseasonably warm, at the very least you can smell as if it was snowing outside. Below, Tom Ford's new Soleil Neige fragrance.