This Red Lipstick Looked Good On All 43 Models At Oscar de la Renta's Show
Astrid Stawiarz/Getty Images for TRESemme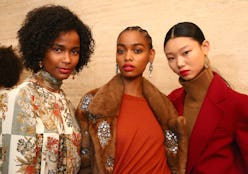 The magic of red lipstick never ceases to amaze me. Just a couple of careful swipes can transform your face within seconds... and the abundance of options in nearly every finish and with every undertone is almost dizzying. Leave it to Tom Pecheaux, the lead makeup artist at Oscar de la Renta Fall/Winter 2019, to find one universally flattering red lipstick that looked stunning on all 43 models that walked the show.
"The collection is about the urban woman who has an open mind, likes to travel, and likes to get inspired by what she sees in different cultures and different countries," the legendary artist tells me backstage. "In terms of beauty, she's totally confident with her beauty. She's not hiding anything. She's not putting much on, except for a little bit of red lipstick."
The shade in question? MAC Cosmetics Retro Matte Liquid Lipcolour in Feels So Grand, which the brand describes as a "deep true red" on site. "The red lipstick looks almost like it's been traveling, too. The lip isn't totally perfect," Pecheaux notes. "It's a little bit smooth all around. It's like a bright color in the center but it's fading out. It's a lipstick that almost looks like it's been used." Many of the makeup assistants used lip brushes to apply the pigment on, finishing up with their fingertips to really press the color in.
Because the shade is a pure red, Pecheux blended a bit of a deeper red lipstick in the center of the lips to tone it down. "The center is bright, so it ages much softer," he explains.
As for the rest of the face, he describes the skin as a "pretty matte finish," with a "bit of eyebrow: and a touch of copper color eyeshadow on the eyelid. "No mascara," he clarifies. "We kept it pretty minimal. There's a true luxury in the fashion and clothes, so we wanted to also have that truth in the beauty. We don't want anything fake."
This same approach is one that he still holds near and dear as an artist, especially in the era of heavy filters and 15-second tutorials. "For me, beauty is about expressing something," he muses. "I personally prefer the kind of makeup where you still look yourself, but increase your natural beauty or increase a feeling that you want to express. [For example,] red lips would be extreme femininity and power. Smokey eyes [express] more of sensual beauty. Eyeliner would be more graphic."
Not that there's anything wrong with some of the wilder iterations of the trends ("I think people should do whatever they feel," he notes), but that true take on beauty is one that will never go out of style for the pro. "For me, [heavy makeup] is hiding a person you don't like. I prefer that first version of beauaty. For me, it never left. [Heavy makeup] came stronger, recently, for the last five years. It's not what I will teach other makeup artists. I prefer to teach people to appreciate what they have. The grass [may be] greener on the other side, but I don't experience that."