Lady Bags Are The Prettiest Trend To Try This Spring
A Danse Lente bag. Photo: Shutterstock.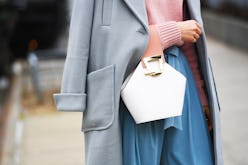 A practical tote will always be a begrudging wardrobe fixture. (Most women know the pain of finding a stylish bag to lug a work laptop around in.) But, when it comes to investing in something that's sensible and quenches your sartorial thirst at once, there's really only one way to go. Lady bags are the spring 2019 handbag trend bridging this gap — appearing both pragmatic and playful in the form of buckets, satchels, shoulder bags, and crossbodies.
From geometric shapes to unlikely uses of hardware and clever color-block designs, emerging labels like Staud, Danse Lente, and Yuzefi are leading the new ladylike bag movement by re-defining the vibe in a way that feels both sophisticated and nuanced. The trend centers around clean and structured silhouettes with distinctive clasps and handles, and in unlikely color combinations that read decidedly fresh with office attire and weekend leisure wear alike. Basically, they're do-it-all bags with an eye-grabbing kick — what trend could be more worth investing in than that?
What's more, this handbag trend is the easiest way to give simple outfits and classic staples a forward spin. Think about it: You can give a slick suit an instant dose of cool with a geometric top-handle bag in a bold color-block palette or dress up your go-to jeans-and-sweater combo with a lantern-shaped shoulder bag.
To further convince you that a statement-making lady bag is worth investing in for 2019, ahead, three fashion insiders give their take on the trend with shoppable picks sure to leave you salivating. Once you've settled on a style you can't live without, scroll through for outfit inspiration and styling tips, courtesy of the always savvy street-style set. Let the countdown to spring begin.
Caroline Maguire, Fashion Director at Shopbop
"I'm really into structured mini hand-held bags at the moment and absolutely love that you can wear them with any outfit regardless of occasion or clothing trend," says Shopbop's fashion director, Caroline Maguire. "I think these bags are subtle yet chic, and bring an element of luxury to your look. I love pairing a ladylike mini bag with a bold animal print or fabric. The juxtaposition allows you to be trendy but polished."
Edge up a feminine dress with a structured silhouette punctuated with a unique handle.
A color-block bag adds even more interest to a printed dress in a complementary color palette.
Never underestimate the power of a red handbag, especially one that's all about the handle.
Marina Larroudé, Fashion Director at Barneys New York
"There is something very modern looking about carrying a bag that looks like something you borrowed from your grandmother's closet," says Marina Larroudé, the fashion director at Barneys New York. "All the cool girls at the office have been carrying little structured bags. The bag works as a contrast to all of the street looks we see out there by giving a feminine take on the "boys' look. They also look cool with a ladylike outfit. Very Clueless, very '90's."
Give feminine separates a graphic pop with a structured silhouette in black and white.
Classic shades like navy, white, and tan always go together and a slightly nuanced top-handle bag helps said neutrals pop — especially one with sleek hardware to don with polished outfits.
Stark-white accessories are going strong for 2019 as is the croc-effect trend. So, why not merge the two and go for an innovative shape in the luxe fabric? You can style it with bright colors, neutral tones, and punchy prints.
Rebecca Dennett, Stylist
"Sculptural bags give outfits a fresh and punchy feel," says stylist, Rebecca Dennett. "It's quite liberating to carry around a mini bag that can pretty much only fit your phone, coin purse, keys, and lip balm instead of a large bag with your life packed into it. As a stylist, the physical hustle of large duffles never ends so I jump at any opportunity to use my mini bags for a light weight, no-fuss look during non-work outings like brunch, museum hopping, park hangs, and cocktails."
Tan-colored bags are endlessly versatile. For a fashion-forward vibe, choose one in a nuanced shape and wear with everything from bright separates to monochromatic looks.
Carryalls needn't be boring if you go for a style with clean lines and a slightly exaggerated shape. For added impact, coordinate the color of your bag and shoes.
If you're a stickler to neutral bags, a two-tone design with ultra-sleek hardware has a fresher feel whether you're accenting work attire or dressing up jeans.