Why A Yuzefi Bag Is The Cult-Status Symbol Your Wardrobe Is Missing
Courtesy of Yuzefi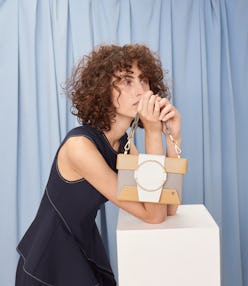 Big-name designer handbags will always be among the most-coveted: Chanel, Gucci, Christian Dior, and Saint Laurent are classics; lust-worthy status symbols that consistently top wish lists. While these high-end labels will forever be in style, contemporary handbag brands are rising up with equally sought-after designs that feel decidedly fresh and status-worthy. To wit, they're offered at a more attainable price point than that of their luxury counterparts. Sounds pretty good, right? At the forefront is the new handbag brand Yuzefi.
With a unique identity all its own, the emerging London-based label — founded in 2016 by Naza Yousefi — offers distinctive boxy bags with an irregular use of hardware that reads modern and elevated; an ideal aesthetic for those seeking a well-made bag that's swings unconventional. "I had no previous experience in designing bags before I started," Yousefi tells The Zoe Report candidly. "My initial approach was naive but free from any constraints traditional handbag training can sometimes create, and I became absolutely fascinated by the endless possibilities of working with leather."
With a background in ready-to-wear design (which includes commissioned pieces for fashion-industry heavyweights like Hedi Slimane, Patti Wilson, and Steven Klein), Yousefi took a cross-disciplinary approach to her line with interior design fueling her fascination with the relationship between material, form, and function. "I really wanted to offer a true luxury product that could hold its own in every way: not just the aesthetics, but right down to the materials and craftsmanship," says Yousefi.
Developing her initial concept alongside an interiors artisan who introduced her to leather molding and bonding techniques used in furniture design, Yousefi began finding her signature aesthetic — which features industrial-inspired bolts to seal molded panels and highlight the construction of her unique bag shapes without any conventional joints, gussets, or stitching. "The techniques were refined and personalized over a period of 12 months and are now unique to Yuzefi," the designer explains.
The brand first launched for Pre-Fall 2016 with three signature styles, the Delila, Mini Delila, and Asher. The boxy, open-top Delia bag is the first style Yousefi designed, accented with a gleaming gold-tone ring and chain strap. Meanwhile, the Asher is modeled after a vintage camera satchel with similar hardware and a closed top. With these initial designs, Yuzefi garnered the attention of retail buyers almost immediately, including the London-based boutique, Browns, Net-A-Porter, Shopbop, and Moda Operandi.
"E-commerce was my only initial strategy and I was not planning on wholesaling at all…I knew how hard it can be to be noticed and picked up by major [retailers]," Yousefi says of her near-immediate success. "Browns was the first to pick it up — I remember meeting Ida Petersson who is now the buying director and she gave me lots of feedback but didn't place an order. I went away and did everything she said and they bought the next collection a few months after. The bags sold out in three days. After that, retailers started contacting us from all over the world and we have been playing catch up with the demand ever since. It's wonderful to have the opportunity to tell the story from time to time and remember how far we have come in such a short time."
Elizabeth von der Goltz, global buying director at Net-a-Porter says that she and her team uncharacteristically discovered Yuzefi on Instagram. "It was different [from] anything we were seeing in the market," von der Goltz explains. "The combination of expert color blocking, use of various textures, and contemporary price point means they appeal to a wide audience, and that was confirmed within the first season of launch."
Shopbop's fashion director, Caroline Maguire was quick to pick up the emerging talent, too. "Naza's collection is exactly what we love to find and share with our customers — it's all about mixing beautiful bold colors with clean, structured shapes," says Maguire. "The dinky bag is my absolute favorite — it's playful, unique, and beautifully crafted."
Despite the unexpected wholesale success, e-commerce continues to be a huge focus for the emerging brand, which as of this month, offers on-site shopping for US customers. "We've mostly offered the same collection as our retail partners until now, but with our growing wholesale distribution we want to make sure that customers continue to have a reason to buy directly from us," Yousefi says. "We are looking to grow our e-commerce exclusives in the coming seasons, with the idea of working towards our first flagship store in the near future."
Another important tactic for Yousefi has been connecting with the influencer set, quickly counting Eleonora Carisi, Darja Barannik, and Danielle Bernstein of WeWoreWhat as fans of her brand. "I think influencer support is absolutely vital for brand awareness," Yousefi says. "We have always worked organically and all the support we have received so far has been purely because they happened to like the product."
With more than the influencer stamp of approval, it's Yousefi's distinct vision and contemporary price point has led to her cult following. "The initial designs were developed purely to create something that was unique and distinctive because I felt that it was missing from the market," the designer explains. "We're all becoming more and more conscious about our consumption and I feel that even luxury shoppers are searching for that unique and distinctive piece with more longevity at a sharp price point. We try to develop our range with all of that in mind, and aim to connect with the overarching mood of the moment while carving out a unique identity of our own."
By working with one of the best Italian leather tanneries and a leading Spanish manufacturer, Yousefi manages to stay competitive, and in some cases, is winning the brand battle alongside prominent labels. "I think the days of big brand names and over-inflated price tags is coming to an end and customers expect great design and quality but at an honest and fair price point. I also sense a bit of a backlash against over-marketed and ubiquitous pieces that flood our Instagram feed and customers are keen to discover and embrace great products no matter what the source," the designer says, possibly hinting at Dior's targeted (and controversial) handbag campaign that flooded Instagram in July. "That really creates an exciting and level playing field where product is king and brand loyalty is at an all-time low."
Though she's just getting started, the 35-year-old designer is already working to expand her collection of handbags, introducing new styles and color-ways each season. "There will be a ton of newness for the next pre-fall season that we are very excited about. We are also adding a completely new product category, but that is all I can say until the big unveil around mid 2019. This will include some dream collaborations for us also," the designer shares.
Until then, shop the edit of Yuzefi bags below.