Princess Diana's Go-To Jeans Are Back, According To This Denim Brand
Keith Waldegrave/Mail On Sunday/Shutterstock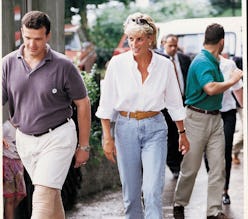 There's a reason for the name mom jeans. If you grew up in the '90s, you likely remember your mom, aunt, or babysitter wearing high-rise light wash denim that dominated at the time. But by the early '00s, skinny jeans had replaced this denim trend as the style du jour, and mom jeans were on the outs. Now, while ultra-tight denim remains a staple, '90s jean brand Mavi reaffirms that mom jeans are in fact continuing their rise again. Launched in 1991, the brand found its footing right in the midst of the last high-rise phase. Now, after a few years of the relaxed '90s jeans being a favorite among the street style set, the popularity is trickling down and consumers are taking notice.
"The mom jean is an iconic '90s look and has become a true fashion fit favored by women of all ages and body types, with its high waist, anchored by ballooning hips and slim legs," explains Alissa Friedman, Mavi's PR and marketing manager. The brand has seen a movement towards higher rises and more relaxed legs over the past few seasons. She adds that though brands are embracing this backward-looking trend, it's in an updated way. "The modern-day versions are designed in slightly slimmer, less baggy cuts with a softer touch that customers have come to expect from their jeans, while maintaining the overall rigid look."
If you scour vintage stores in search of pieces from the original mom jean era, you'll know that they're often made of super-rigid denim that can be tricky to fit into and tends to go baggy in a few wears — not ideal. Recently, Re/Done has made moves to help reconfigure these denim cuts for a modern age, and done so successfully. But, as fabric technology and design have developed over the past few decades, denim brands are finding newer ways to update the design. Levi's viral Ribcage Jeans and Everlane's high-rise '90s jeans are both made of 100 percent cotton, but with an updated fit. Mavi meanwhile incorporates stretch into their denim fabric while maintaining a rigid shape. Either way, recent iterations focus on customer comfort above all. "As an on-the-go society, consumers have come to expect a certain level of comfort from their jeans," adds Friedman. "We design our Vintage and '90s groups in true rigid denim looks paired with a softer touch and feel that move with you."
Below, shop the best mom jeans to add to your denim collection now: