Kourtney Kardashian Swears By This DIY Lip Scrub (& It's SO Easy To Make)
Dave Kotinsky/Getty Images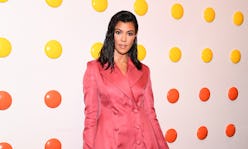 If you wish your skin could look as glowy as Kourtney Kardashian's (who doesn't?), then you'll be thrilled about the video she just did for Vogue. In it, the beauty-reform activist goes through her morning skincare and makeup routine, calling out her favorite products and a little homemade remedy, too. This DIY lip scrub is what Kourtney Kardashian uses to keep her pout smooth.
The health-conscious Kardashian stepped in front of the camera for Vogue dressed in her cozy robe to dish on all the clean and natural products that keep her skin glowy and under control. First, she brushed on a mix-yourself mask (Root Science Detox's Clarifying Facial Mask, to be exact), and then, while it was setting, she whipped up her lip-care secret.
Kardashian mixed together equal parts honey (which is full of antioxidants), coconut oil (a heavy-duty moisturizer), and organic raw sugar (a natural exfoliator) and brushed the homemade scrub onto her lips. The mom of three even had a little taste of the formula while she dabbed it on, noting that the scrub actually tastes "yummy."
Kardashian said she keeps the scrub in a little jar in her bathroom for days when she wears a bright (or dark) lip. After all, you've got to keep that canvas smooth and moisturized if you want to rock a Kardashian-style bold lip.
Perhaps the reality TV personality will dish out more tips like this on the new wellness and beauty site she just launched on Tues. called Poosh (after daughter Penelope, of course). You can certainly expect to see lots of all-natural products and DIY skincare recipes (spoiler: she uses a lot of honey).
Kardashian touched on beauty reform, a topic she's been increasingly vocal about lately, while demonstrating her routine, which — after the mask and scrub — included Barbara Sturm Hyaluronic Serum, Caudalie Beauty Elixir, Pai Skincare Rosehip Bioregenerate Oil, and Elta MD sunscreen.
"It's up to us as consumers to try and figure out what is safe and not safe," she says, which is perhaps why she's turned to her kitchen pantry for a good, clean lip scrub. Make your own at home with these three simple, find-anywhere ingredients, ahead.
Shop The Products