The Common Habit Successful Women Avoid At All Costs
Cole Bennetts/Getty Images Entertainment/Getty Images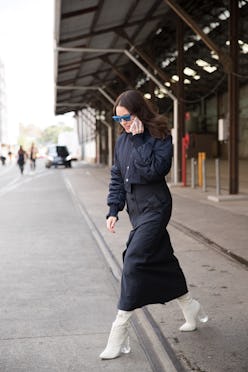 Habits are a natural part of the human condition. For some, these tendencies are minor (hello, nail-biters) and have little to no impact on one's day-to-day life. Some common personal habits, however, can be more emotionally driven and leave some pretty drastic damage on one's life or career, whether you notice or not. Just ask designer and entrepreneur Nathalie Saphier.
For decades, the former stylist and current founder of Replica Los Angeles, worked as a one-woman show in the fashion industry. Early on, Saphier spent some 15 years in Paris working as a designer and developed a solid client roster of major fashion houses that included Isabel Marant and Sonia Rykiel. After taking a break from designing, the Los Angeles-native put her styling hat on for a while, and had her editorial work featured in some major publications including Teen Vogue and Vanity Fair. For the past decade, however, Saphier has returned to her roots, starting several fashion labels, the most recent of which is Replica, a chic and whimsical brand that draws influences from "glam rock, punk and Jamaican ska, along with a love for seminal '70s London boutique/brands," according to the label's site.
Throughout a majority of her journey, the Los Angeles-native learned to rely on herself for any and all business matters and moves. While in many cases it worked in her favor and allowed her the flexibility to chase her dreams on her own terms, in other ways it limited her from growth and opportunities that can come from simply asking for a helping hand or even getting a second opinion.
It wasn't until Saphier was diagnosed with cancer two years ago, that she realized the value in including others into your grand vision for life. The habitually independent business woman found herself asking for help and support, something she never before prioritized. The diagnosis (for which she is now in remission — yay!) called for a serious life shift and change that has shaped the business woman she is today.
Ahead, the CEO and style expert discusses her free-spirited journey through the fashion world and the major lessons she's learned along the way, including the crucial habit that she avoids at all costs (hint hint: It has to do with second-guessing yourself).
The Zoe Report: You've worn many hats over the course of your fashion career. In switching gears from designer to stylist to designer again, what did you do differently this time around (with Replica)?
Nathalie Saphier: There's nothing like time and experience. This time around, I'm actually running [Replica] like a real business, whereas before, I was always like this solo player. You can only go so far that way. You can't really grow when you're on you're own — you hit a plateau pretty quickly. I now have a business partner and I'm no longer a Jaclyn of all trades! It's great because I can focus on what I excel at, which is all things creative and my business counterpart focuses on all the digits.
TZR: Is there a specific schedule or regimen you follow day to day?
NS: Absolutely not. Actually, most of my daylight hours and 'work hours' are taken up by communication with my partner, emails, and more administrative parts of my job. Then, at night, it's a different story. I'm one of those night birds that can work until two or three in the morning, and that's kind of what I do. That's when my creative juices are really flowing and I can't be interrupted.
TZR: It sounds like your days are pretty full! How do make time for yourself?
NS: I have to make a concerted effort to carve it out. Otherwise, I'm one of those people who will fall into the trap of just working, working, working, because it's kind of my comfort zone. I really feel like I'm in control when I'm working. But, self-care is really important, especially considering my year of illness (cancer). It just became really prevalent that I needed to make that time for myself.
So every day, I spend at least an hour for myself, and usually it's first thing in the morning. I'll just get up and have my breakfast and read my news and I'm just quiet for that time. I don't pick up the phone or take any calls. I really care about that time for myself. I have to.
TZR: Is there anything you wish you'd known early on in your fashion career?
NS: I wish I would've known more about business. I wish that was something they taught you in design school. Well, maybe they do now, but when I was in school, it was all about being super creative. Then, you went out into the world and had zero business acumen. So, I think they should make business education mandatory in design school and creative studies, especially if you're planning on starting your own business.
TZR: What is your biggest advice to those making changes in their work path?
NS: Just bite the bullet and go for it. Seek knowledge from people who've been there and are doing it. For me, up until I got sick, I had a fear of asking for help and I often second-guessed decisions with the fear that it wouldn't work out. But, then I got cancer. And, when something like that happens to you everything else is peanuts. For me, it was a perspective shift and completely alleviated my fear in business. I was like, 'If I can get through that sh**, I can get through this sh**.'
Another thing I would say is overthinking always keeps me from taking action or gets me into the wrong action. So one should be more instinctual and just focus on giving that choice or path your everything.