This 2019 Earrings Trend Requires No Piercings At All (& No, It's Not Clip-Ons)
Maria Black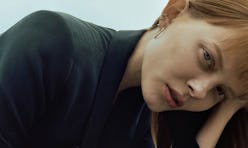 Not that there's anything wrong with traditional earrings, but for those who don't have pierced ears, the options — while equally as beautiful as their counterparts — can often be limited. That said the increasing popularity of cuffed earrings is one jewelry trend that requires no piercings at all, making it a highly covetable option among both those who have and have not braved the needle to their lobes. Aside from the apparent convenience of wearing jewelry that stays snug on your ears without any additional effort, the 2019 earrings trend is, to put it simply, cool.
Though it may have been the simple, minimalist styles resembling that of hoops or miniature versions of your favorite bracelet, ear cuffs have come a long way since they first appeared among their fellow jewelry trends. Now, thanks to the increasing number of Instagram-worthy jewelry stacks — whether they're of the earring variety or not — this trend has become more versatile than ever, enticing anyone and everyone to add on as many or as little as they want.
If you're just stepping into the earring trend, try this Minimal Ear Cuff, $35, from Bing Bang to start. Want something that stands out a little more? The Bold Ear Cuff with Diamonds from AUrate will be an effortless step up from your standard bands and costs $300. For a piece that feels like a unique twist on a classic style, the Signet Ear Cuff by J. Hannah, available for $165, will easily turn heads.
Ready to go for more of a statement? Take on the turquoise trend with this Turquoise Ear Cuff from The Last Line, which will feel like a cool alternative to your minimalist jewels and costs $345. Or, if you're going the more formal route, this Maria Black Avery Blanc Ear Cuff is undeniably pretty. For the ultimate ear cuff look, wrap your ear with the Crescendo Diamond Ear Cuff from Katkim, which will leave you with a diamond peaking out just over your ear.
If you simply can't get enough of this cool earring trend, scroll down to shop more styles below.