How To Wear 2019's Best New Eyeshadow Palettes
Photo by Anastasia Beverly Hills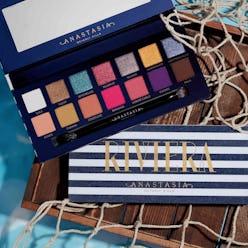 Some people get excited about spring solely because it presents an easy way to change your wardrobe. I, however, welcome the new season to refresh my makeup bag... especially with one (or all) of 2019's best new 2019 eyeshadow palettes that are on shelves now — and so much bold and colorful glittery goodness is in store for the warmer days ahead.
In a way, brands like Charlotte Tilbury, Urban Decay, and NARS (who are among the brands offering gorgeous new shadows) are already ahead of the curve: plenty of their palettes feature the highlighter shades and earth tones spotted at the Fall/Winter 2019 fashion shows. But the shades — the light-brights and the muted vibes — are ones that work right here and now, too.
If you're stuck on how to wear them, never fear... a few beauty influencers already dreamed up some of the most beautiful color combinations to try. But if you're not into all of the blending, blotting, and false lash application, applying one intensely pigmented shade right on your lid works just as well, too. Bonus points if it's super rich (like anything from Anastasia Beverly Hills Riviera Palette or Too Face's Pretty Mess Eyeshadow Palette)... most times, you can just swipe the color on with your finger.
Ahead, see some of the coolest new eyeshadows out right now, along with ways to wear them.
Charlotte Tilbury The Icon Eyeshadow Palette
Makeup artist Ed Mellor created this look with the new Icon Eyeshadow Palette. The shades blend like a dream to create a seamless bright eye. Add the tones Day Eyes Enhance (an amber honey), Date Eyes Smoke (a gold bronze), and the Diva Eyes Smoke (a rich auburn shade) to create the look above.
Anastasia Beverly Hills Riviera Palette
Beauty influencer Gigi Madrigal created this bright look using the Riviera Palette. The palette includes 14 shades that are inspired by the bright colors of tropical paradises. Apply Cabana, which is a muted brown-mustard color, directly on your eyelid. Then add the shade Yacht, mauvy taupe, to your crease, finishing with the glittery gold Inheritance in your inner corners for some shine.
Lawless The One Eyeshadow Palette
Take inspiration from Annie Lawless, CEO of Lawless Beauty, on how to utilize several of the shades in The One. She used "Everything and Next Level through crease, the shade Feels lower in the crease to define, Steady over Feels to intensify, DTR on outer lid, Crushing mixed with Obsessed on the inner lid applied with a finger, [and] Plunge on lash line," she described on Instagram. "Repeat all over on the lower lash line, except in reverse!"
Kevyn Aucoin Beauty Emphasize Eyeshadow Design Palette
Makeup artist Chai used the Emphasize Eyeshadow Design Palette to create this everyday look, made of both satin textures and the new cream foil formula.
Bobbi Brown x Ulla Johnson The Minou Eyeshadow Palette
If you're like me and like a subtler feel, give the Minou eyeshadow palette a try. But don't be fooled by the pretty shade names, like Shell, Chiffon, and Antique Rose. The colors look soft, but pack a ton of creamy intensity once applied.
Too Faced Pretty Mess Eyeshadow Palette
Beauty creator and makeup artist Yolanda Wallace used the Pretty Mess Eyeshadow Palette, created by Too Faced co-founder Jerrod Blandino and reality star Erika Jayne, to create this pretty in pink combination.
Urban Decay Naked Reloaded Palette
In February 2019, Urban Decay listened to fans' cries and revamped the OG Naked palette. You get the same feel of those beloved shades of yesteryear, with more universally-flattering selections. See how makeup artist Sandi Jarquin utilized the new shades, above.
PÜR Out of the Blue Light Up Vanity Eyeshadow Palette
Not only does this product come packaged in a light-up vanity case... but the formula includes xanthophyll, an ingredient that helps fight the harmful effects of blue light.