This ColourPop Eyeshadow Palette Has A 5-Star Rating & More Than 1,900 Glowing Reviews
ColourPop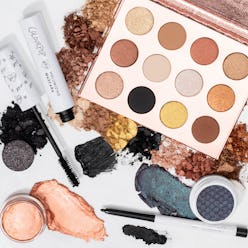 Whether you consider yourself beauty-obsessed or not, you've probably heard of ColourPop at one point or another. The cult-favorite beauty brand has become known for its endless supply of affordable beauty staples, like its liquid matte lipsticks that helped put the brand on the map and its wide variety of collaborations. The brand is also known for its highly pigmented shadows, which come as individuals or part of larger palettes. With that in mind, if you're the type of person who prefers to have a cohesive set of shadows to choose from, or you're simply not sure where to start, you can always look to what customers deem the best ColourPop eyeshadow palettes the brand has to offer.
Let's be real: ColourPop has a seemingly infinite number of products to choose from, but especially eyeshadow palettes. So when it comes to choosing one (or more, depending on how many options you want to give yourself), you might find yourself overwhelmed by the options. Luckily, with the help of the Internet, you can narrow down your choices to the best of the best.
If there's one palette that appears to be a must-have for any beauty lover, it's the $16 Yes, Please! palette. With an impressive rating of five stars based on just under 2,000 reviews, it's safe to say that this palette — which was inspired by the hues of golden hour — is well-loved by makeup users everywhere.
Another popular favorite is Dream St., which was created in collaboration with beauty vlogger and influencer Kathleen Lights and has a average rating of five stars based on 996 reviews. This palette features a combination of both matte and shimmery neutrals as well as bolder colors such as a metallic deep teal and neon red, and customers love it for its range and versatility.
The favorites don't stop there, so scroll down to see nine of the top-rated palettes on ColourPop to add to your personal beauty collection, now.
Shop ColourPop Eyeshadow Palettes