5 Beauty Editors Share Their Wedding Day Scent (& One Is *So* Unexpected)
Bruce Plotkin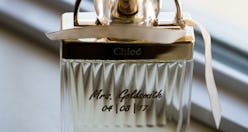 Not to add another thing to your wedding planning plate, but have you considered how you want to smell yet? If that little detail somehow slipped your mind, don't stress. There are roughly one million annoying decisions that go into pulling off the perfect ceremony — whether to invite your dad's second-cousin's kids or risk the family drama, for instance — and picking your wedding day perfume should not be one of them. Have fun with it, and let your gut be your guide. (Because unlike deciding how you want the napkins folded, finding a fragrance you love is a matter of instinct.) If you need a little direction, though, allow five beauty editors to let you in on their scent-selecting secrets.
"Scent memory is powerful," Lauren Levinson, the Editorial Director at Spotlyte, tells The Zoe Report. With this in mind, she deviated from her everyday perfume — after all, it isn't every day that you get married — and went with something that felt slightly more elevated. "I always knew I wanted a 'wedding scent' with the idea being that whenever you spray it, you're reminded of that time in your life."
Then there's the opposite approach: the signature scent. "I wore Elizabeth and James White Eau de Parfum on my wedding day, which is a perfume I've been wearing for years and the entirety of my dating relationship with my husband," Sara Tan, the Senior Fashion & Beauty Editor at Bustle, tells TZR. I mean, how romantic is that?
Ahead, the exact fragrances five beauty editors wore on the big day — and their best advice for finding yours.
Lindsey Metrus Malhado, Senior Editor, Byrdie
"At 29, I still haven't been able to pinpoint a signature scent," Lindsey Metrus Malhado, the Senior Editor at Byrdie, tells The Zoe Report. "I have a big collection of bottles that I enjoy, but nothing I'm over the moon about, so picking a wedding fragrance was a near-impossible task." Her solution is pretty genius: Metrus Malhado had her future husband smell each perfume in her collection and pick his favorite. "It made the task easier and felt sweet to have him choose the scent that would commemorate our day," she says. "Plus, I was genuinely interested to see what he'd pick. His choice: Chloé Nomade Eau de Parfum. "Now whenever I spritz it, I'm reminded of our sunny August garden party."
Jenny Jin, Senior Beauty Editor, PureWow
"I plan on wearing Ellis Brooklyn Rives," Jenny Jin, the Senior Beauty Editor at PureWow, tells TZR. "I actually just discovered this perfume a couple months ago and haven't stopped wearing it since. I guess you could say I've adopted it as my new signature scent." Its unisex profile — which Jin describes as "very crisp and clean from start to finish," with notes of energizing neroli and grounding white suede — means it'll work any time of year, in any location.
"We're just starting to plan our wedding now so I don't have a date set yet," the editor says. "But no matter where we have it or what time of year it ends up taking place, I think this breezy fragrance will fit the overall vibe of the festivities nicely."
Lauren Levinson, Editorial Director, Spotlyte
"As a wedding gift, my PR friends at COTY engraved my chosen scent — Chloé Love Story Eau de Parfum — with 'Mrs. Goldsmith 04/08/17,' my husband's last name and our wedding date," Levinson shares. "It's so special to me that I still leave it out on my vanity two years later."
Levinson based her decision on a suggestion from her florist. "[She] gave me the best advice when she said, 'Be the most elegant version of yourself at your wedding,'" the Spotlyte director says. "This classic French pick felt like just that! It's described as a fruity floral with jasmine (my all-time favorite note) at the heart. It was the ideal, feminine fragrance for my springtime wedding."
Sara Tan, Senior Fashion & Beauty Editor, Bustle
Tan's reason for sticking to a tried-and-true fragrance? "When it came to my makeup and hair, I wanted to look like myself — not some unrecognizable glammed-up person," she says. "I think that's why I also chose to wear the same perfume I had always worn — because I wanted to smell the same, too!"
Jessica L. Yarbrough, Beauty Writer, The Zoe Report
Oh, hi! That's me. Looking back, so many of my wedding day choices now seem cliché, for lack of a better word. Like the fact that I rocked a flower crown. Or that my wedding scent was Le Labo Santal 33, a fragrance that can only be described as "cult-favorite," and one my nose encounters on at least a weekly basis in Los Angeles. It's everywhere and on everyone… but that doesn't make it any less special to me.
After hearing me wax poetic about Santal 33 — and complain that it was too damn expensive to trade in my sample spritzer for the full size — my husband took the hint and presented me with a bottle before our wedding. He had the label personalized to read, "To my love…" so really, how could I not wear it on the big day? I save my Le Labo for major events now; but even when I smell it on someone else, I'm reminded of our (gorgeous, epic, fairy tale) wedding. Which actually makes a pretty compelling case for going "cliché."