These Jewelry Street Style Trends Were Everywhere At Fashion Month
Shutterstock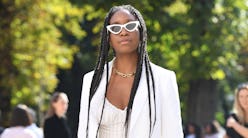 This season's fashion month street style served up an abundance of inspiration worth holding onto for the next six months or more. Editors, stylists, and creatives all sprinted from show to show in each of the four major cities, dressed in a mix of designer it-items like Bottega Veneta's square-toe heels, and Staud's statement bags. Not to be overlooked, fall 2019's street style jewelry trends were especially strong, with women eschewing traditional, dainty baubles and reaching for bold pieces that have the power to transform an entire look.
Some of the jewelry trends were directly in line with what you saw on the Fall/Winter 2019 runways back in February, including glitzy rhinestone-bedecked earrings like those at Loewe and arts and crafts-inspired designs, like the cool earrings spotted at Stella McCartney. There were also a number of more Instagram-worthy styles that first appeared over summer, but also a hint at what might be big in the months to come. If you consider yourself a jewelry fiend, or simply want to catch up on the latest trends to know, continue ahead to discover the biggest jewelry street style trends from fashion month and shop the picks to get ahead of the curve for the coming season.
Chunky Chains
Arguably the most popular jewelry trend across the span of fashion month was chunky chains. Both gold and silver iterations popped up in the forms of edgy chokers or statement bracelets. If you're a first-timer to chunky chains, try a shorter necklace and layer it with a few daintier styles to create a dynamic look that doesn't feel too punk nor too precious.
Arts & Crafts
Mixed-media jewelry has been an emerging trend over the last few seasons, and in September, it appeared in every city. This artful aesthetic is especially appealing because there are so many ways to approach the trend, including resin, upcycled objects, and even wooden textures. The name of the game is to have fun.
Glitz & Glam
Just in time for holiday season, it's time to embrace a little glitz into your jewelry repertoire. For something unexpected, pair your jewelry of choice with something less soft and more structured for a cool contrast (think: twinkly earrings worn with an oversized shirt and slacks).
Cord Details
Lean into the natural textures trend you've seen pick up speed (e.g., seashells), and try rope strands in lieu of chains as an interesting new trick. Though it wasn't as ubiquitious as the chunky chain look, it's a cool one to try out before it blows up on Instagram.
Estate Sale
Borrowed-from-Grandma pieces like brooches, sunglasses chains, and silk scarves continue to be favorites among the style set. Naturally, jewelry with an antique-like quality to it — perhaps something you'd snag from an estate sale — was spotted being mixed with more contemporary pieces.
Delicate Layering
A tried-and-true jewelry trend that remained consistent in street style was delicate layering necklaces. It's a great look when you want to add a finishing touch but don't want to draw too much attention away from your clothes.
Golden Nugget
Ultra-chunky gold earrings were another standout trend that cropped up as an alternative to the usual hoop silhouette. There were more playful shapes, like oversize golden shells or a replica of an ear which have the power to transform an entire look.