15 Street Style Jewelry Looks You'll Want To Recreate Immediately
Shutterstock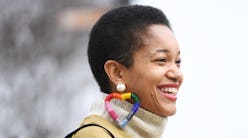 Wearing jewelry during the winter is often trickier than most might acknowledge. Delicate gold chains get knotted up in scarves, earrings are caught on coats, and rings and gloves aren't exactly a match made in heaven. However, if you're a die-hard jewelry wearer, then nothing will stop you from indulging in a bauble or two. Thankfully, the coldest months are now in the rear view mirror, but for the last chilly days ahead, you may still want some inspiration. Drawing on the jewelry trends worn by the street style stars of the Fall 2019 fashion season, you'll have plenty of proof that cold-weather layers and sparkly accessories can still play nicely together.
If there was one standout piece to note this season it would be bright statement earrings. Last season, architectural, chunky gold pieces dominated, and while some of those remained it seems that the fashion crowd is craving something more colorful for 2019. Tamu Mcpherson accessorized with a rainbow pair of heart-shaped earrings, while Stylist Rachael Wang sported a turquoise design that resembled a tasty piece of rock candy. Other trends that emerged included oversize chain links and gold coins that have an antique feel to them. There were also plenty of seashells, a good amount of chandelier-inspired pieces, and even some modern-feeling pearls. In other words, the street style jewelry offered up a little something for everyone. Fancy a look? Ahead, 15 standout jewelry styles to give a spin in 2019 and the best spring arrivals to try them out with.
Why stop at an oversized pearl earring? Team the bold style with an even bolder chunky chainlink necklace.
Model Indira Scott punctuates her 70s-inspired suede jacket and mustard turtleneck with a pair of pretty beaded earrings. Wooden beads are ideal for those craving a vintage vibe.
A coin necklace is a fresh alternative to the pendant styles that have been every It-girls go to over the last few seasons.
If you've embraced the season's hair clip trend, then you'll be delighted to know it pairs well with statement earrings, as witnessed above.
Sometimes all you need to give your outfit a quick lift is a pair of bedazzled earrings. Dripping crystal baubles can dress up even a simple jeans and tee combination.
For a take on a classic that doesn't feel fussy, try layering strands or opting for rough, knobbly pearls.
Whenever you may be feeling stale on jewelry inspiration simply turn to Accidental Icon's Lyn Slater for a refresh.
Nothing says I'm ready for spring better than a floral earring and chartreuse sweater. These colorful earrings offer an instant boost to a wintery look.
This modern take on charm jewelry is a cute piece to layer over your t-shirts and sweaters.
Statement earrings are an ideal winter jewelry pick because even with a beanie or turtleneck on they're always in view.
If you're unsure how to tackle the seashell trend, then try the above: pairing it with your favorite delicate gold hoops.
Chunky stacked rings — and especially signet styles — were a popular choice for show-goers sans gloves.
If ever there were a perfect pair of party earrings, it would be something oversized and sparkly.
If you tend to dress minimally but want to add a bold splash, then add in a pair of colorful drop earrings like the SVNR ones above.
Turquoise may traditionally be a stone that feels better suited to summer dressing, but it can look equally cool styled with a sleek coat.