2019's Biggest Trend Isn't Going Anywhere, According To Paris Fashion Week's Runways
Louis Vuitton Spring/Summer 2020. Photo: Shutterstock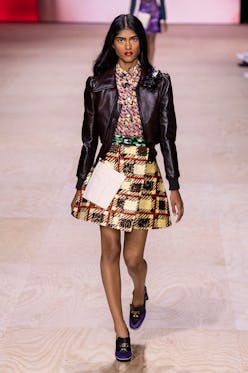 Paris Fashion Week is where trends are made. They may first pop up in New York, London, or Milan. But, it's in Paris, the home of the industry's most revered fashion houses, that they're truly solidified. The best fashion trends from Paris's Spring/Summer 2020 runways indicated that new decade will kick off with a breadth of fresh ideas, even from the staunchest of old-school institutions.
In Paris, you'll find it's the dawning of a new period of sartorial optimism and a fresh championing of personal style. This season was a particularly sentient one when it came to addressing the outdated nuances of the current fashion calendar. The majority of Paris's runways gave just as much runway real estate to coats and boots as they did to lighter fare: Hermès abundant leathers and Louis Vuitton's platform boots serve as just two examples. The spring runway season is available for customers to shop as early as January; that coincides with brands who are wising up to shoppers' needs, which has lead to a less stringent seasonal-specific offering of recent.
But what's all that to say about the actual clothes you'll be considering in the year to come? There are a handful of inspired trends that popped up throughout the week-and-a-half of events. There were high-volume shoulders and hems as seen at Alexander McQueen and Balenciaga; there was a continued attention to suiting, both fitted and oversized, at labels like Chanel, Dior, and Marine Serre; and there were also plenty of flashy metallics and bold psychedelic florals to help you embrace a new you as a new era dawns. Come spring, you'll have no shortage of sartorial options as the 2020 you takes center stage. Ahead, the only 7 spring trends that matter.
Vested Interest
As if the popularity of simple two-piece suiting wasn't enough, this spring, brands added a third piece to the mix: the vest. Styled as part of a layered ensemble or worn alone as an alternative to outerwear, a vest is a must-own piece for spring.
All-Over Orange
While there was an impressive range of colors splashed across the spring runways, orange was one that appeared heavily throughout the season. It's an unexpected color that looks especially good when worn head to toe, as seen at Isabel Marant and Nina Ricci, among others.
The New Suit
Suiting of all types remains a popular choice for spring, but one new iteration that you should consider is the skirt set. It possesses an air of ladylike polish, but it doesn't have to be stuffy. Choose a playful hemline or a fun color to give it a fresh twist.
Heavy Metals
Metallics have been a trend arc throughout fashion month, and in Paris, brands presented a diverse range of options; both Balenciaga's bold ball gown and the chevron sweater vest of Louis Vuitton were stand-out looks. The bottom line: This spring, you'll want to shine on.
Sheer
Sheer clothing is one of those choose your own adventure trends. There are those comfortable with wearing a sheer dress with just underwear underneath. Others simply want a see-through topper to finish off an otherwise complete outfit. Next year, both options are equally acceptable. It's all about what you're comfortable wearing.
Un-Subtle Stripes
Striping is often considered a neutral: It's simple, usually applied to basics, and goes with whatever else you may want to wear. But this spring, the lines are getting blurred, warped, and reimagined. At Lanvin, a wavy, almost topographic alternative made an appearance while a number of brands also offered bold, multi-color options.
Puff Pieces
Fall's romantic puff sleeves aren't going anywhere in the year ahead, but they also have a new counterpart: the puffed hemline. Both high-volume styles made an appearance on major runways serving as proof that you'll want to turn the volume up in 2020.