Sleeper's First Shoe Collab Just Landed At Net-A-Porter & It's About As Chic As It Gets
Sleeper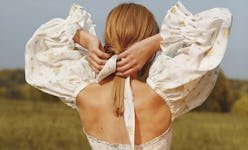 2019 is now officially about halfway over, and one thing is for sure: This year may be remembered for its romance. No, not talking about love here — specifically, the romantic style the fashion community seems to be completely enamored with. It seems like no matter where you turn, you'll be able to spot feminine ruffles, balloon sleeves, pale florals, and Victorian blouses. And if the trend has crept into your closet, you'll want to check out the Sleeper x Le Monde Beryl collab at Net-a-Porter. Released June 14, the exclusive capsule collection features the only two shoe styles you need to pair with the poet blouses currently hanging in your closet (or accumulating in your online shopping cart).
Besides the endless styling options, the capsule successfully marries together Le Monde Beryl shoe shapes with prints from the casually glamorous brand Sleeper — a first for the latter. "We are thrilled to see the collaboration between Sleeper and Le Monde Beryl come to life; two brands that we see real potential with for the upcoming season," reads a quote by Net-a-Porter Global Buying Director, Elizabeth von der Goltz, in a press email. "The capsule has such a summery feel taking the linen from Sleeper and the shoe silhouettes from Le Monde Beryl; the styles will be perfect for everyday use and summer events."
The only problem? You may have trouble choosing between the capsule's two options. The $435 floral-print Venetian slippers offer more coverage and a pragmatically low, blocky heel. On the other hand, the $500 Sleeper x Le Monde Beryl kitten-heel mules may've already stolen your heart — and they're made to be equally comfortable, too. Both linen-canvas designs were crafted by hand in a factory outside of Florence, and feature a memory foam-like insole.
The linen — and Sleeper's use of it — actually influenced how the collection came together. "This collaboration was inspired by the delicate Sleeper floral fabrics," Lily Atherton and Katya Shyfrin, founders of Le Monde Beryl, shared. "Both of our brands focus on craftsmanship, quality, and versatility. And together we created something that radiates a feminine and free-and-easy style."
"To see our prints on Le Monde Beryl shoes is amazing. We have always loved what Lily and Katya created. That's why collaborating on a design with these girls, is nothing but a wonderful experience," added the creators of Sleeper, Asya Varetsa and Kate Zubarieva. "We like that we have this 'girl power vibe'; we began our businesses at approximately the same time and the brand's owners are friends like Asya and I. It's great to meet like-minded people and produce something new together."
Ahead, both new designs from the Sleeper x Le Monde Beryl capsule collection.