This Celebrity Stylist Teamed Up With Rent The Runway To Design The Perfect Holiday Wardrobe
COURTESY OF RENT THE RUNWAY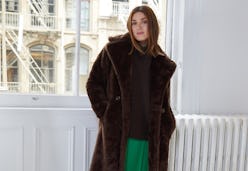 This time of year many seasonal gatherings are scheduled for after work, meaning you'll likely have to put a little more thought into what you slip into in the morning. That said, Rent the Runway's new capsule collection, designed in partnership with celebrity stylist Jamie Mizrahi, offers a range of holiday-approved desk-to-dinner pieces that'll make transitioning from the office to casual cocktails a breeze.
Aptly named "Sweet Baby Jamie," the collection is the result of a collaborative effort between Rent the Runway and the stylist to the stars and The KiT co-founder. And, considering Mizrahi has a client list that includes names like Katy Perry, Jessica Alba, and Nicole Richie (among others) as well as incredibly chic personal style (just check out her Instagram), it's no wonder why RTR would want to work with the creative talent to design the first of its new "Tastemaker" lines.
Arriving just in time for the holiday party circuit, the Aspen-inspired collection (Mizrahi got married there) boasts versatile styles in both vibrant hues, neutral shades, and on-trend prints. Infusing her own everyday style aesthetic into the designs, the lineup includes elevated essentials with a stylish twist. In the mix, you'll find everything from cozy knits and velvet dresses to silky separates and outfit-making outerwear — all of which can easily be dressed up or down depending on the occasion.
So, how do you get these pieces into your closet? You have three different options to choose from when it comes to scooping up these styles, including two monthly subscription packages: RTR Unlimited ($159) and RTR Update ($89). Or, you can opt for RTR Reserve for four or eight day rentals — the pricing will depend on the pieces you select.
As previously mentioned, the "Sweet Baby Jamie" collection is the first of RTR's new "Tastemaker" lines. That means, if you like what you're seeing here, know there's more to come. In addition to Mizrahi, RTR will be partnering with other key style tastemakers to create exclusive collections that'll only be available on the rental platform.
If you're ready to start putting together your holiday party looks, mark your calendars for Nov. 15 and head over to Rent the Runway to rent the "Sweet Baby Jamie" capsule collection. In the meantime, view select pieces from the offering below.